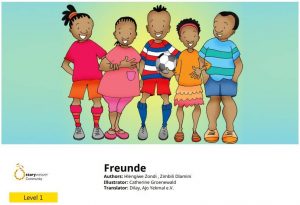 Freunde – Friends German – A story about friendship, everyone has their own things that they are interested in and loved to do. The best way to have fun with your friends is enjoying the things together and sharing the games or activities they love to do.
Authors: Hlengiwe Zondi , Zimbili Dlamini, Illustrator: Catherine Groenewald
Text and Images from Freunde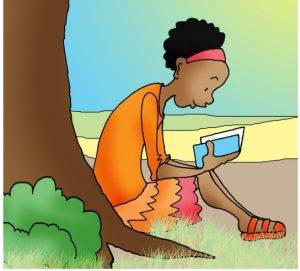 Ich heiße Simo.
Ich habe vier Freunde.
Sie heißen Zizo, Lele, Sisa und Ayanda.
Mein Freund Zizo spielt gerne Fußball.
Meine Freundin Lele schwimmt gerne.
Mein Freund Sisa spielt gerne Verstecken.
Meine Freundin Ayanda liest gerne.
<end of sample>
Read the full book by selecting one of the buttons below the post.
Freunde English Version below
Read this book in English here.
See more books in German below