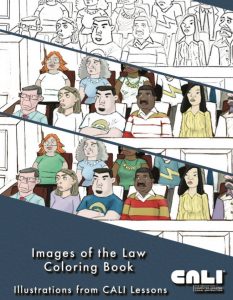 Images of the Law – CALI simple law guidance – This colouring book can be a fun way to introduce upper middle-grade to high school students to the legal principles, basic rights under the US law, and legal debate. It's also a really fun way to study these concepts for law students, each of which is paraphrased beautifully with references and a matching colouring image.
This young adult colouring-book can be a nice way to relax and study new topics of law at the same time.
This coloring book is brought to us by the Center for Computer-Assisted Legal Instruction, CALI and is available in creative commons, CC-BY-NC. See many more books like this at https://www.cali.org/the-elangdell-bookstore , all books are available in free electronic forms, pdf, and sometimes editable, and other formats too.
Studying the law can be stressful. CALI® has spent over 40 years making the process easier for law students and these CALI Lessons are covering more than 40 different legal subject areas are a perfect way to help remember these important concepts. Within many of the lessons, there are original drawings by the artist Eric Molinsky used to illustrate concepts, aid visual learners, or enliven the presentation. According to research, coloring can also help reduce anxiety, bring tranquility, increase mindfulness and it's fun! Each image within this CALI Coloring Book has a short description of the legal concept illustrated by the artwork and a URL where you can find the CALI Lesson it comes from.
Created by CALI Staff
Illustrated by Eric Molinsky, Text by CALI
Sample Text from Images of the Law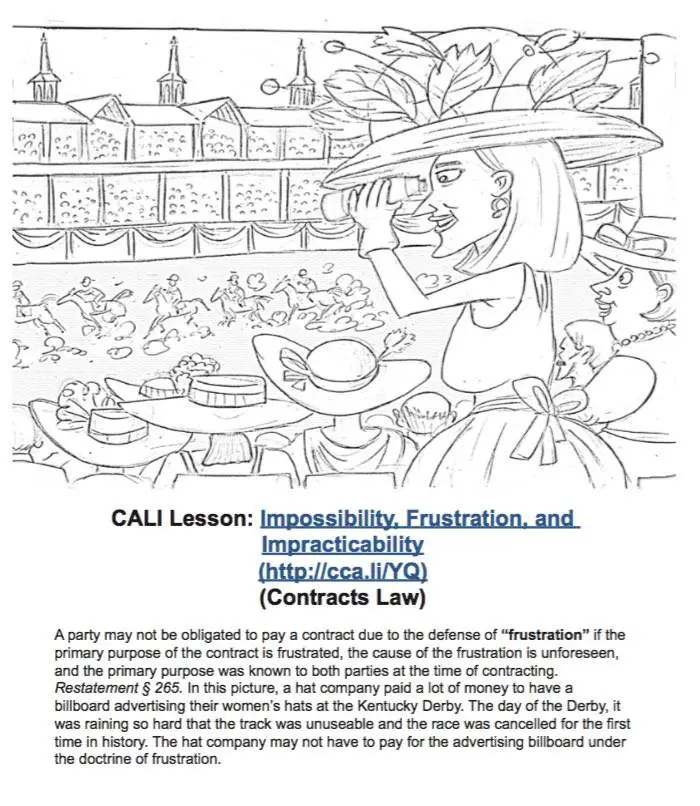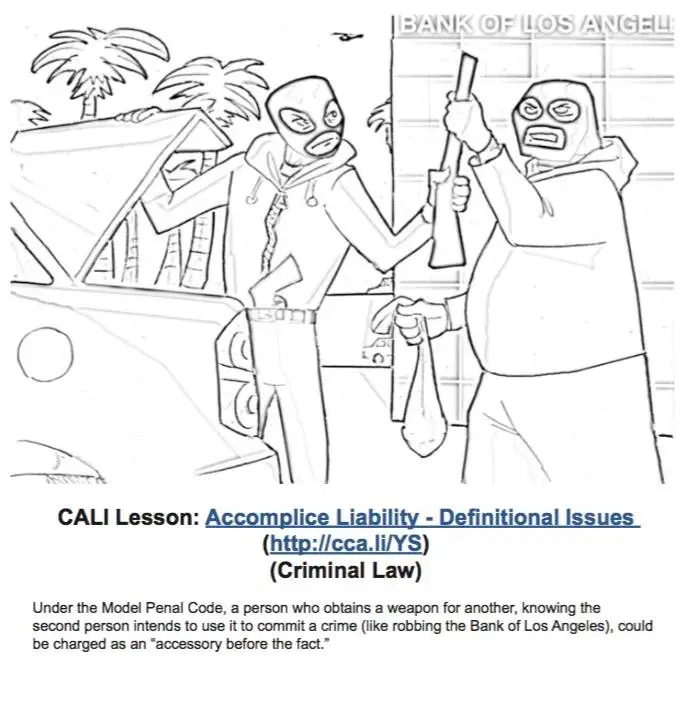 Freedom of Speech
In a democracy, ideas must be allowed into the "marketplace" so that people will be better informed and better able to exercise their right to vote. The government should not be allowed to censor people in their discussion of ideas, especially regarding their discussion of government. The "marketplace of ideas" theory is a justification for protecting speech under the First Amendment.
Defamation
The tort of defamation requires that the defamatory statement be "published." That does not mean that the words must be printed in a book or newspaper. Publication just means getting the information or potentially defamatory material to a third party who understands it. The man on the bullhorn talking into a crowd would meet the standard for "publishing" if he was speaking defamatory statements. Defamation also requires the publication to third parties to be done intentionally or negligently.
Indefinteness
The UCC section 2-305(1) does not invalidate a contract simply because the parties fail to specify a price. If the parties intend to contract, but fail to specify a price, the price is the reasonable price for the items at the time of delivery. In this image, the DNC ordered 100,000 balloons and the vendor delivered them. The contract however, failed to state a price. The cost of the 100.000 balloons would be governed by the UCC.
Accomplice Liability
Under the Model Penal Code, a person who obtains a weapon for another, knowing the second person intends to use it to commit a crime (like robbing the Bank of Los Angeles), could be charged as an "accessory before the fact."
About the Artist
Eric Molinsky grew up in the Boston area. After graduating from Wesleyan University and CalArts, he became an animation storyboard artist, working on shows like The Rugrats and Wild Thornberrys. Then he made a big career shift and moved to New York to become a public radio reporter. He's produced stories for Studio 360, The New Yorker Radio Hour, 99% Invisible, Marketplace, NPR and WNYC. He now hosts the podcast Imaginary Worlds on the Panoply network about science ction and other fantasy genres. He also sketches people on the subway using his iPhone (but if you see him, pretend not to notice.)
About eLangdell Press
The Center for Computer-Assisted Legal Instruction (CALI®) is a nonprofit organization with over 200 member US law schools, an innovative force pushing legal education toward change for the better. There are bene ts to CALI membership for your school, rm, or organization. eLangdell® is our electronic press with a mission to publish more open books for legal education.
How do we define "open?"
· Compatibility with devices like smartphones, tablets, and e-readers; as well as print.
· The right for educators to remix the materials through more lenient copyright policies. · The ability for educators and students to adopt the materials for free.
Find available and upcoming eLangdell titles at elangdell.cali.org. Show support for CALI by following us on Facebook and Twitter, and by telling your friends and colleagues where you received your free book.
See more of our Adult and YA colouring books below
---
Sponsored Links:
Note – if you sign up through these links, it doesn't cost you any extra, but FKB receives a small donation, which helps us with our project to buy more FREE Hardcopies   for kids who need them

All our posts are checked by Grammarly, the FREE online grammar checker (We still receive a donation even if you only sign up for the free account :-):