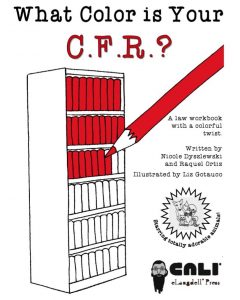 A fun colouring book to highlight the important mechanisms, pathways, and resources in the road to properly Researching the US Federal Regulations,  (i.e introduction and concise summary of US legal research for law students etc).
Created by Nicole Dyszlewski, Raquel Ortiz, and Liz Gotauco, Published by CALI eLangdell Press. Available under a Creative Commons BY- NC- SA 4.0 License.
If you are looking for more law books, see the tag LAW here at Free Kids Books: https://freekidsbooks.org/tag/law/
Sample Pages from Colour Your CFR – Researching the US Federal Regulations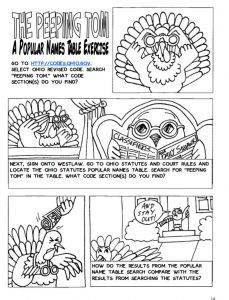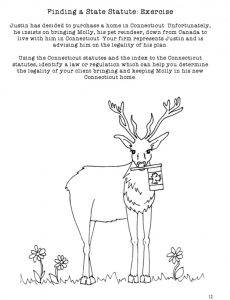 More about the Publisher and This Material
CALI® and eLangdell® are United States federally registered trademarks owned by the Center for Computer-Assisted Legal Instruction. The cover art design is a copyrighted work of CALI, all rights reserved. The CALI graphical logo is a trademark and may not be used without permission.
Should you create derivative works based on the text of this book or other Creative Commons materials therein, you may not use this book's cover art and the aforementioned logos, or any derivative thereof, to imply endorsement or otherwise without written permission from CALI.
This material does not contain nor is intended to be legal advice. Users seeking legal advice should consult with a licensed attorney in their jurisdiction. The editors have endeavored to provide complete and accurate information in this book. However, CALI does not warrant that the information provided is complete and accurate. CALI disclaims all liability to any person for any loss caused by errors or omissions in this collection of information.
See more of our colouring books for older children and young adults below
---
Sponsored Links:
Note – if you sign up through these links, it doesn't cost you any extra, but FKB receives a small donation, which helps us with our project to buy more FREE Hardcopies   for kids who need them
All our posts are checked by Grammarly, the FREE online grammar checker (We still receive a donation even if you only sign up for the free account :-):