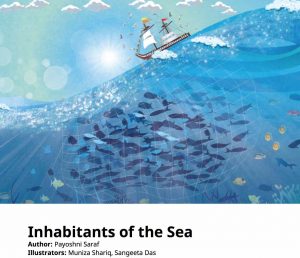 Inhabitants of the sea is a marine life early non-fiction book, suitable for kindergarten and early grades. This short book describes popular sea creatures such as sea horses, octopus, clown fish, dolphins, manta ray, star fish, and sea turtles.
This is another great creative commons book from the Pratham Storyweaver community
Sample text from Inhabitants of the sea
This is a Seahorse.
It is mostly found in shallow tropical and temperate waters throughout the world.
This is an Octopus.
Octopuses inhabit diverse regions of the ocean, including coral reefs and the ocean floor.
<End of page 2 from Inhabitants of the sea.>
——
See more books from Pratham-Storyweaver in our Pratham Storyweaver category.