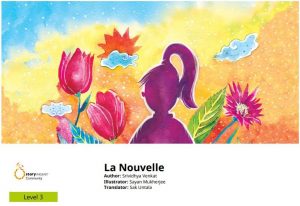 La Nouvelle – The New Girl French Version Zenie is the new girl in her new school, she came from Mizoram. Being a new girl almost everyone teases and make fun of her or thinks that she is different despite their teacher telling them to be nice to their new classmate. Mira befriends Zenie for she was once the new girl and knows what she is going through. She defends Zenie and showed their classmates that it is ok to be different. She even encourages Zenie on their new project about their festivals and family.
This story is about Indian Culture and celebrating differences.
Author: Srividhya Venkat, Illustrator: Sayan Mukherjee
Sample from La Nouvelle – The New Girl – French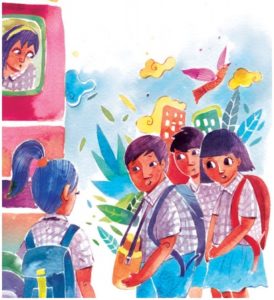 Aujourd'hui, il y a une nouvelle à l'arrêt de bus de Mira. Tout le monde la dévisage, mais personne ne lui parle.
Dans le bus scolaire, tous les élèves sont assis à côté de leurs amis.
La nouvelle, elle, est toute seule.
À l'école, la maîtresse, Miss Salma, a une surprise pour Mira et ses camarades de classe.
— Nous avons une nouvelle amie dans la classe. Elle s'appelle Zenie.
Tous les élèves se tournent vers Zenie.
— Elle est différente, disent-ils.
Miss Salma leur indique qu'ils doivent être gentils et serviables avec elle.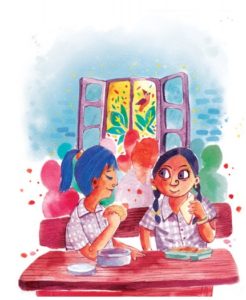 Mira se souvient alors avoir été ellemême la nouvelle dans l'école.
Personne ne lui parlait. Personne ne
voulait jouer avec elle.
Elle fait un sourire à Zenie. Zenie lui sourit à son tour.
Pendant le cours d'arts plastiques, Mira prête ses crayons à Zenie.
Pendant la récréation, elles partagent leur repas. Elles s'asseyent l'une à côté de l'autre dans le bus, après l'école, et jouent même ensemble le soir.
Elles sont devenues les MEILLEURES AMIES DU MONDE !
<end of sample>
See more books in French below