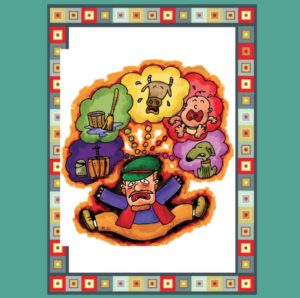 L'homme qui se croyait plus intelligent que sa femme – Conte traditionnel norvégien A funny story about  a Man and his wife who change jobs, as the wife suggested this to her husband because her husband always belittles her. The husband agrees without a second thought as he wanted to teach his wife a lesson. On the following day the husband learns that being a house wife is not a rather easy task than what he think and finds simple things to do more complicated.
Author: Veena Seshadri, Illustrator: Greystroke
Text from L'homme qui se croyait plus intelligent que sa femme
Il était une fois un fermier qui était constamment morose et grincheux. Mais sa femme n'était pas du tout comme lui, elle travaillait dur et était toujours d'humeur joyeuse. Mais Gus le Grincheux trouvait toujours quelque chose à lui redire. Il pensait qu'elle était stupide et qu'elle était incapable de faire la moindre petite chose correctement.
Un soir, Gus le Grincheux rentra de très mauvaise humeur de son travail dans les champs. Il frappa à la porte mais sa femme était occupée et mit un peu plus de temps à arriver.
Cela rendit Gus aussi grognon qu'un alligator qui louche ayant une rage de dents. Il hurla sur sa femme, gronda le bébé et marcha sur la queue du pauvre toutou. Et ses dents mal alignées claquaient et postillonnaient alors qu'il continuait de crier de plus en plus fort.
Alors qu'il arrivait à bout de souffle, sa femme lui dit: "Chut! Chut! Pourquoi fais-tu un tel raffut? Demain j'irai travailler dans les champs et tu resteras ici et feras ce que j'ai à faire. Et nous verrons bien si tu aimeras ça."
"C'est une EXCELLENTE IDEE!" dit Gus. Il pensait qu'il était en effet, très intelligent et il voulait donner une bonne leçon à sa femme. "Je te montrerai COMMENT LES CHOSES DOIVENT ETRE FAITES!"
<end of sample>
Read the full book by selecting the buttons below the post.
L'homme qui se croyait plus intelligent que sa femme English Version below:
Read this story in English here.
See more books in French below