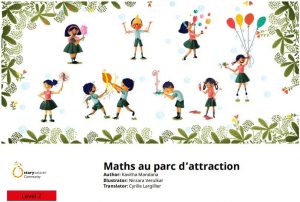 Maths au parc d'attraction – Maths at the Mela French – A fair that presents opportunities to use math in counting and quickly solve simple math problems. In this story a group of student went on a school trip on a fair and they found out that rides on the fair needs to group students in by two, threes, and four and in this story student use a math technique to count quickly.
Author: Kavitha Mandana, Illustrator: Nirzara Verulkar
Text and Images from Maths au parc d'attraction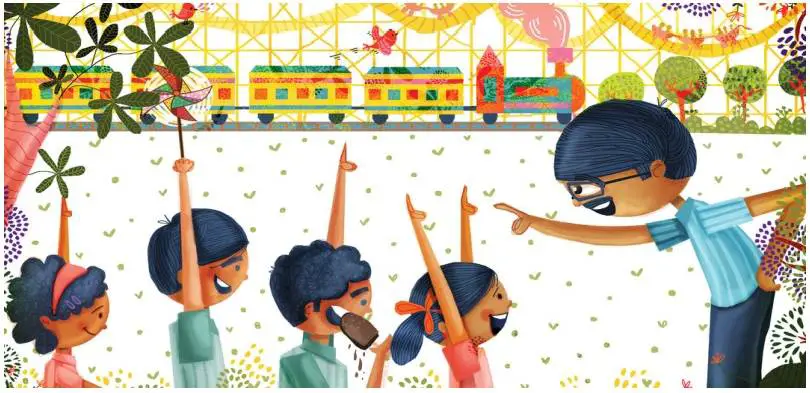 Leelu est au parc d'attraction avec les 36 élèves de CM1!
Le professeur dit : « Ceux qui veulent aller dans le petit train lèvent la main.»
Tout le monde crie : « Moi, monsieur … moi! »
Le professeur commence à compter les mains.
Avant qu'il ne puisse atteindre 36, le petit train est
plein.
Il donne un fort coup de sifflet et démarre.
La classe de CM1 doit attendre le prochain tour.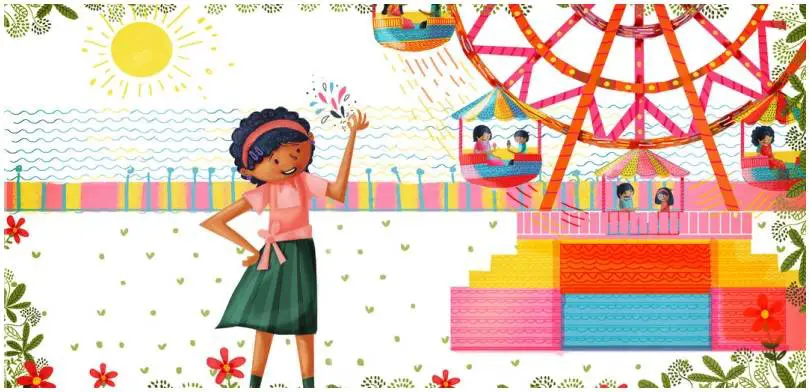 Ensuite, c'est le moment d'aller jusqu'à la grande roue.
Chaque cabine pivotante de la roue a deux sièges.
Leelu voit qu'un billet est valable pour deux personnes.
Avant que le professeur ne commence à compter
un par un, Leelu compte rapidement sa classe
de deux en deux :
« 2, 4, 6, 8, 10, 12, 14 … 36. »
Le guichetier demande : « Combien de tickets? »
Leelu répond, « 18. »
<end of sample>
Read this book by selecting one of the buttons below the post.
Maths au parc d'attraction English version below:
See the English version using these links.
See more books in French below