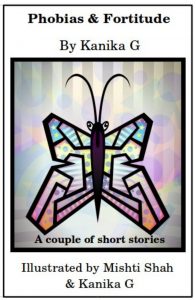 Phobias & Fortitude –  This book contains 2 short stories. Princess Lemon & Her Yellow Shoes and Scared Out Of her Wits, both of which are suitable for 8 to 12 year old kids.
Princess Lemon & Her Yellow Shoes (new edition): Kate has lots of shoes. She loves them all. All except a pair of pretty yellow sandals. She wants to throw the sandals away, but Mama won't let her do that. So she is very mean to the sandals. Then one day, she needs them for her Princess Lemon costume. But in a fit of anger she has thrown the shoes away. Will she get to be Princess Lemon? What happens to the poor yellow shoes? Are they squashed by a trash compacter? Read on to find out.
This story is illustrated by the 8 year old Mishti Shah who also illustrated The Mysterious Uncle Uh-Oh
Scared Out Of her Wits: Shiv finds his friend Kaira draped over the stinky society dumpster. Intrigued, he taps her to find out what is going on. But the look of terror on her face frightens him. What could have happened to make her so scared? Read on to find out.
Text and Images from princess Lemon & Her Yellow Shoes
Kate had lots and lots of shoes. She had pink slip-on shoes, brown floaters, purple boots, black school shoes, white
sports shoes, red party shoes and silver ballet shoes.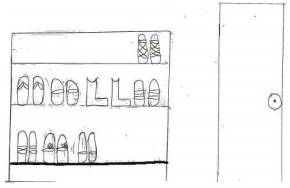 She also had another pair of shoes. But, she did not like to talk about them. She did not want any one to see them. She hid them at the far back corner of her shoe rack.
Aunt Tina had given Kate a pair of yellow, open toed, strappy sandals for Diwali. Kate was very angry when she
saw them. She wanted Mama to throw them away.
Mama was surprised. "I thought you love shoes. In fact, you have been demanding exactly these kind of sandals for the last year. You said, that the red party shoes are not sandals and you wanted party sandals. Well these are gorgeous party sandals. So what's the problem?"
Kate told mama why she did not like the sandals.
<end of text>
Images and Text from Scared Out Of Her Wits
Shiv was intrigued. Why was his best friend, the typically level headed Kaira, draped over the lip of a dumpster, with
her bum sticking out in to the air? Had she taken leave of her senses? He had to find out.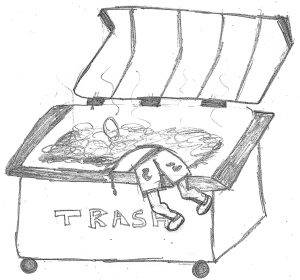 The stench was unbearable. Shiv supposed, that Mona had used the society dumpster to dispose off the half boiled egg her mother had given her for breakfast, again.
Holding his nose with one hand, Shiv gently tapped Kaira on her calf with the other. Shiv had hoped to draw Kaira's
attention, but he hadn't expected her to jump, scream, and then fall on him. He managed to crawl out from under her, only to see that she looked completely deranged.
Her hair was a stinky, tangled mess with a banana peel hanging out of a half done plait. There was black goo on her nose. But none of this was as frightening as the look in her eyes.
<end of text>
See more books about Behaviour below
See more books by Kanika G below
---
Sponsored Links:
Note – if you sign up through these links, it doesn't cost you any extra, but FKB receives a small donation, which helps us with our project to buy more FREE Hardcopies   for kids who need them

All our posts are checked by Grammarly, the FREE online grammar checker (We still receive a donation even if you only sign up for the free account :-):