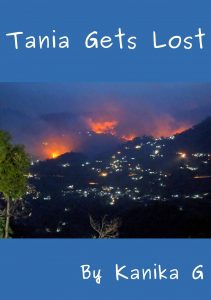 This is book 32 of The Tania Series.
Tania is growing up, and so is her thirst for adventure. After reading many books about kids solving mysteries and stumbling upon secret passages, Tania is craving an adventure of her own.
Tania and her best friend Tanisha, are vacationing with their families in a small town near Nainital. It seems like the perfect place for things to happen.
The girls discover some oddities in a local map. So they undertake a secret quest, oblivious to the dangers involved. Will they succeed? Read on to find out.
This is the longest Tania book yet. It is a chapter book about 10,000 words long, suitable for 8 to 12 year old kids.
Excerpt from Tania gets lost
An Interesting Discovery
"Tania, don't you want to take a nap?" Mama called out.
"No Mama. I'm not sleepy. You know, I don't usually sleep in the
afternoon." Tania replied.
"Yes, but I thought this morning's trek would have worn you out. See,
Sonia is fast asleep." Mama said pointing to baby Sonia on her bed.
"Tanisha and I are not at all sleepy Mama. This place is so exciting. We
want to do some exploring. Can we do that now, Mama?"
"I have no idea how you have so much energy, but if you feel up to it, I
don't see why not. Have fun. Papa and I are off to bed. I'm sure
Tanisha's parents will want some rest too." Mama yawned and headed
for her bedroom.
Tania went to find Tanisha. Their families were vacationing together in
a cottage in Gethia, a small town near Nainital. Their parents had
rented out a quaint, three-bedroom, hill top cottage with a yard for a
week in the middle of May.
Tania's parents occupied the bedroom on the top floor of the cottage
and baby Sonia slept with them. The room opened out to a large
terrace, where Sonia enjoyed running around and playing with her cars
and blocks. Tanisha's parents had the bedroom on the floor below to
themselves. The balcony there had a gorgeous view of the lush green
hills.
Tanisha's sister Trisha had not joined them on the holiday, because she
was busy studying for an entrance exam. So, Tania and Tanisha got to
share the third bedroom on the lowest floor. It was connected to a small
game room with cupboards full of toys, boardgames and books. The
game room had a door that opened out directly to the backyard. The
girls were thrilled with the arrangement.
< End of excerpt >
You can see all of the Tania series of books by clicking on the author link, here: https://freekidsbooks.org/author/kanika-g/. 
For more chapter books, take a look at our Older Children section.  https://freekidsbooks.org/reading-level/older-children/
This comic, Thinking Skills, brought to us by Siyavula, teaches incredibly important rationalization and study skills important to any field, scientific and otherwise. The concepts are explained in a user-friendly comic style, including detailed graphical representation and simple explanations. The topics covered are as follows: Classifying things – page 1 Concept mapping – page 11 …
In, Me Tawk Funny, another well-told tale from Neil McFarlane, our main character finds a good reason to study in this tale of heroes and villains. Would you think you were crazy if your dog suddenly started talking? Buster initially talks a bit funny, but slowly better and better. Then he starts going to school. …
In an Introduction to Biology, a textbook for upper elementary and middle grade, published by Wikijunior, we learn about a range of topics, including a detailed look at the human body and cells, and an overview of kingdoms, archaea, bacteria, protists, fungi, plants, and animals. This text is available in creative commons (CC-BY-SA), so you …
This is a very humorous story about how the narrator's father and a friendly stray cat go in search of an imprisoned young dragon. On the way deceiving the wild animals who want to stop him or eat him, or both, with cute tricks and traps. Hilarious imagery results as the animals give chase. May …
---
Sponsored Links:
Note – if you sign up through these links, it doesn't cost you any extra, but FKB receives a small donation, which helps us move towards our aim of
FREE Hardcopies!  
All our posts are checked by Grammarly, the FREE online grammar checker (We still receive a donation even if you only sign up for the free account :-):


This site is hosted by Bluehost:

Leave a comment (it won't be public) if you want help getting your own website cost-effectively.