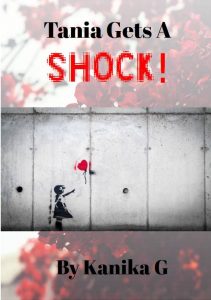 This is book 33 of The Tania Series.
One day in school, nine-year-old Tania suddenly notices bloodstains in her underwear. She realizes she is bleeding, and it won't stop. Where is the blood coming from? Is she sick? What's going to happen? Read on to find out more about Tania's experiences, this book is a great way to learn to broach this difficult topic for children or parents that are unsure how to begin, and a reminder not to leave it too late.
A story about puberty, growing up, and all the normal stuff, including where do babies come from, that can be so overwhelming. Honest, heartfelt, mother-daughter conversations sprinkled with humour go a long way towards making it easier.
For ages 8 and above.
See more of Kanika's books on FKB below
---
Sponsored Links:
Note – if you sign up through these links, it doesn't cost you any extra, but FKB receives a small donation, which helps us with our project to buy more FREE Hardcopies   for kids who need them

All our posts are checked by Grammarly, the FREE online grammar checker (We still receive a donation even if you only sign up for the free account :-):