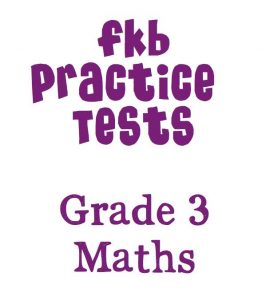 These Grade 3 Mathematics Practice Tests and Exams provide a large selection of 3rd-grade maths practice tests and exams from a variety of different states and countries.
These practice tests can help students test their knowledge to determine the level of understanding of Grade 3 mathematics, or they can be used by teachers as extra practice to administer to classes in lead up to the end of year tests. Practice tests are also a great way to tutor and to test knowledge gaps in students by working through problems together at grade level.
To download or read online these grade 3 maths tests, select the appropriate button below the posts.
See more Grade 3 workbooks, textbooks and tests in our Grade Workbooks post
Grade 3 Maths Tests Contents and Printing Guide
This page can be used for selecting material to print for students, note, the document may be printed as a paper or electronic (pdf) copy using the page subsets below
(this is an excerpt of page 2 from FKB Practice Tests Grade 2 Maths).
Grade 3 Maths Tests with Answers
Grade 3 Maths Practice Test Jamaica State
44 Multichoice questions – Pages 3 – 18
4 Structured questions – Pages 19 – 20
Answers – Page 21
Grade 3 Nebraska State Maths Test 2010
24 Questions Multichoice – Pages 24 – 36
Reference and Formula sheet – Page 37
Grade 3 Maths Practice Tests Louisiana Believes 2013-2014
Section 1 30 questions mulltichoice without calculator – Pages 41 – 55
Section 2 20 questions multichoice with calculator Pages 57 – 69
Section 3 2 Long Form Questions – Pages 71
Answer sheet section 1 and 2 – Pages 72 – 73
Reference and Formula Sheet – Page 74
Answers – Page 75-77
Grade 3 Maths Test Oregon State 2010-2013
Test Taking Tips – Page 83
Reference and Formula Page – Page 84
20 Questions multichoice – Page 85 – 91
Answer sheet – Page 92
Answers – Page 93
Grade 3 Nebraska State Maths Test 2016
23 Questions Multichoice – Pages 96 – 105
Reference and Formula sheet – Page 106
Answers – 107
Grade 3 Maths Tests Without Answers
Grade 3 Maths RSA State Test 2012
20 mixed questions – Pages 111 – 134
Grade 3 Maths RSA State Test 2015
28 mixed questions – Pages 137 – 148
Grade 3 Maths Florida Test 2015
Reference and Formula Page – Page 152
8 Questions multichoice – Page 163 – 169
See more books in our Maths Category below
See more tests and quizzes in our School Exams Section below