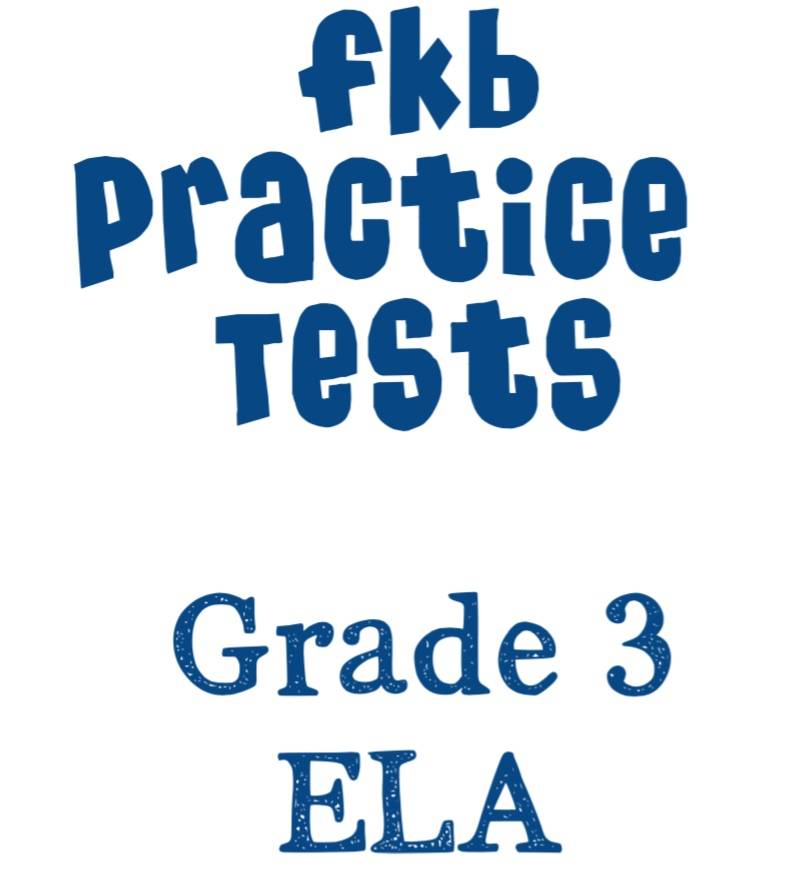 These Grade 3 English Language Practice Tests and Exams provides a large selection of 3rd-grade ELA practice tests and exams from a variety of different states.
These practice tests can help students test their knowledge to determine the level of understanding of Grade 3 Englishs, or they can be used by teachers as extra practice to administer to classes in lead up to the end of year tests. Practice tests are also a great way to tutor and to test knowledge gaps in students by working through problems together at grade level.
To download or read online these grade 3 ELA tests, select the appropriate button below the posts.
See more Grade 3 workbooks, textbooks and tests in our Grade 3 Workbooks post
(this is an excerpt of the contents, page 2 from FKB Practice Tests Grade 3 ELA).
Grade 3 English Language
Contents and Printing Guide
This page can be used for selecting material to print for students, note, the document may be printed as a paper or electronic (pdf) copy using the page subsets below.
Tests with Answers
Grade 3 ELA Massachusetts 2019
Text 1 – 8 Multichoice questions, 1 essay question – Pages 4 – 14
Text 4 – 3 Multichoice questions, 1 essay question – Pages 15 – 19
Text 3 – 8 Multichoice questions, 1 essay question – Pages 20 – 26
Answers – Page 27-29
Grade 3 ELA Wisconsin
General English 3 Questions Multichoice – Pages 31-32
Listening Comprehension 2 Questions Multichoice – Pages 33-34
Reading Comprehension 6 Questions Multichoice Pages 35-42
Answers to multichoice – Pages 43 – 44
Grade 3 ELA New York 2018
Reading Comprehension 6 Questions Multichoice – Pages 53-57
Reading Comprehension 6 Questions Multichoice – Pages 58-61
Reading Comprehension 2 Written Questions – Pages 64-68
Reading Comprehension 3 Written Questions – Pages 69-74
Reading Comprehension 1 Written Question, 1 Essay question – Pages 75-80
Answers to multichoice – Page 82
Grade 3 ELA New York 2019
Reading Comprehension 6 Questions Multichoice – Pages 85-88
Reading Comprehension 6 Questions Multichoice – Pages 89-93
Reading Comprehension 2 Written Questions – Pages 97-101
Reading Comprehension 3 Written Questions – Pages 102-106
Reading Comprehension 1 Written Question, 1 Essay question – Pages 107-112
Answers to multichoice – Page 113
Grade 3 ELA Nebraska 2016
Reading Comprehension 3 Questions Multichoice – Pages 117-118
Reading Comprehension 8 Questions Multichoice – Pages 119-123
Reading Comprehension 7 Multichoice Questions – Pages 124-128
Reading Comprehension 1 Essay Question – Pages 129
Answers to multichoice – Page 130
Here are some more tests available:
LTC Grade 3 Sample Test Grade 3 Grammar – pdf
See more books in our English Language Category below
See more tests and quizzes in our School Exams Section below
---
Sponsored Links:
Note – if you sign up through these links, it doesn't cost you any extra, but FKB receives a small donation, which helps us with our project to buy more FREE Hardcopies   for kids who need them

All our posts are checked by Grammarly, the FREE online grammar checker (We still receive a donation even if you only sign up for the free account :-):