Ringo, le petit rhino – Rhino Charge French – Ringo is a baby rhino who lived with his mother and father, ringo was as strong as any baby rhino would be and he loves to wallow in the wet mud of the park. But there is one thing that ringo does not like, he was so shy, shy enough to not being able to finish introducing his name.
Author: Vijaylakshmi Nagaraj, Illustrator: Sanjay Sarkar
Text and Images from Ringo, le petit rhino
Dans les vastes prairies du Parc national de Kaziranga, en Inde, vivait un bébé rhinocéros qui s'appelait Ringo. Ringo était aussi fort qu'un bébé rhinocéros peut l'être. Il vivait avec son papa et sa maman
Sa peau gris brunâtre était rugueuse et dépourvue de poils. Il était très fier de son unique corne, composée de poils emmêlés. Ringo était très timide et adorait se vautrer dans les eaux boueuses du Brahmapoutre, le fleuve qui traversait la réserve.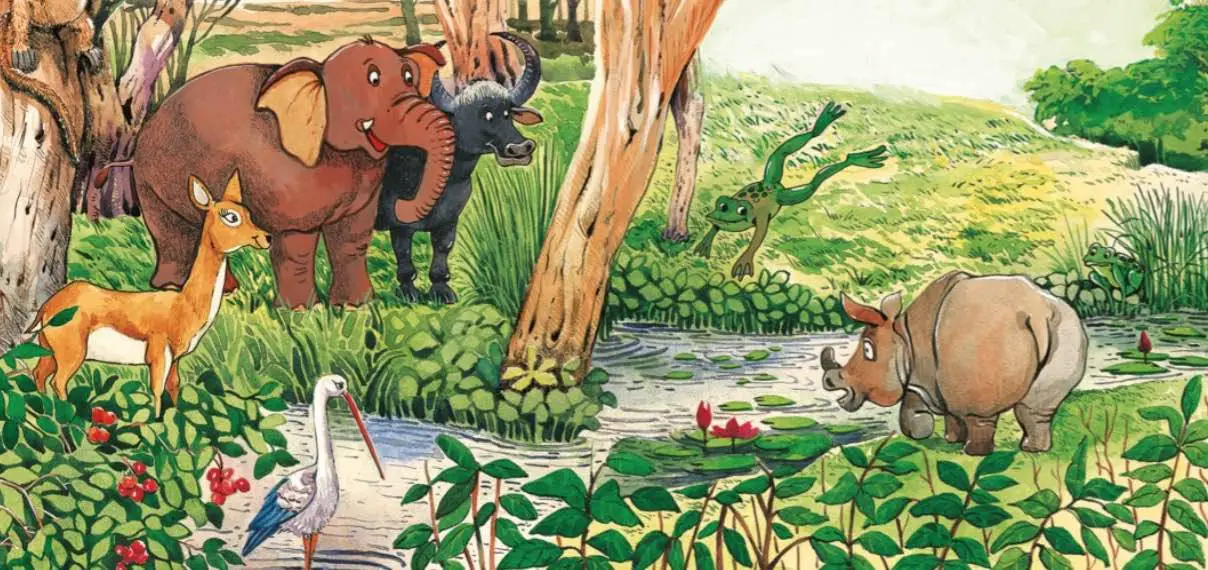 Par un bel après-midi ensoleillé, Ringo se rendit au bord du fleuve pour boire. C'était l'endroit où la plupart des animaux du parc venaient se désaltérer. Certains étaient rassemblés sur la rive, parmi lesquels Gajaraj, l'éléphant, Natkhat, le singe langur, Hemu, le cerf des marais, Kalia, la corneille, Nelu, le bison indien, Harini, le jabiru d'Asie, et enfin, Bhanu et Hari, les grenouilles.
<end of sample>
Read this book by selecting one of the buttons below the post.
Ringo, le petit rhino English Version below:
Read this book in English on the above link.
See more books in French below