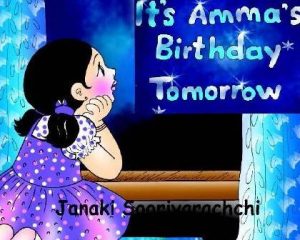 As parents we don't expect anything from our children, but it's so beautiful when they want to give us something, completely from their own thinking. A story about a little girl's love for her mother, and her wish to get her the best present ever.
Author: Janaki Sooriyarachchi
Exert from the book:
Nikini was a little girl. She lived with her mother and father,
in a house near the woods. She was very friendly with the animals in the woods. One evening, Nikini's father came home with a big gift box.
"What's that, Thatha?" Nikini asked her father.
"It's your mother's birthday tomorrow," her father said. "Oh!" Nikini was very upset.
"How could I forget my Amma's birthday?
She would never forget mine.
So I should give her a wonderful gift,"
Nikini thought.
About the Author: Janaki Sooriyarachchi is a highly respected author from Sri Lanka with an exceptional community spirit. She demonstrates her value for contribution by continuing to make her books available for free for download at www.tikiri.com, some of which are reproduced here with Tikiri's permission.