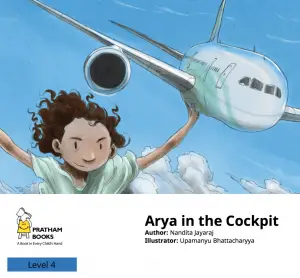 Arya in the cockpit – a fact based children's story tells of a little girl's dream to be a pilot. Along the way we meet many figures from women's history in aviation and find out about their achievements.
An inspiring Level two story brought to us by Pratham children's books and Storyweaver.
Author: Nandita Jayaraj
Illustrator: Upamanyu Bhattacharyya
Text and Images from Arya in the Cockpit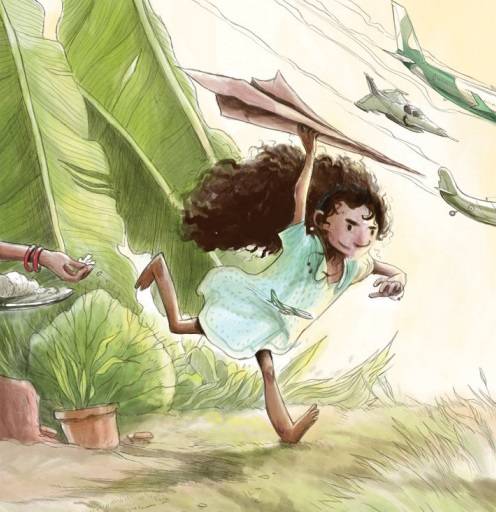 Arya always wanted to fly.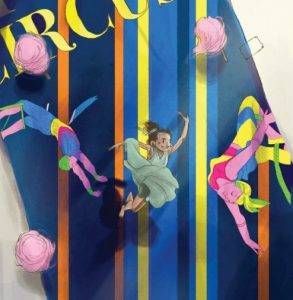 When she was four years old, she
wanted to be Rosamma.
Arya saw her at the circus.
Rosamma was a trapeze artist.
Arya wanted to fly in the air from swing to swing. Her clothes would glitter like Rosamma's.
Hundreds of people would clap for her.
She would eat cotton candy every day.
Her best friend would be a clown.
Trapeze artists climb a tall ladder, stand on a narrow board,
hold the fly bar, and swing! Another trapeze artist is
usually waiting to catch them on the other side.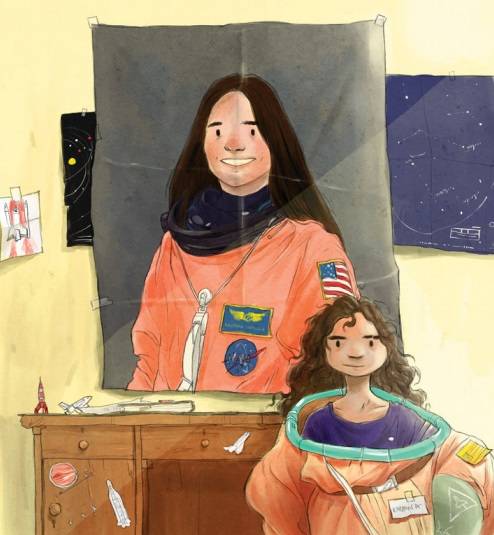 When Arya was eight years old she wanted to be Kalpana Chawla.
She made herself an orange space suit. She wore it day and night.
"Arya, aren't you feeling hot in that suit?"
"Astronauts have to get used to the suit, Amma. Space is not as safe as Earth is. My suit will protect me."
<end of sample>
Or read along with the video below
About Pratham Books
Pratham Books goes digital, FKB  is helping with their aim to get a book in every child's hand!
Storyweaver, their digital platform is provided to weave a whole new chapter in the realm of multilingual children's stories. Knitting together children, authors, illustrators and publishers. Folding in teachers, and translators. Creating a rich fabric of openly licensed multilingual stories for the children of India and the world. Their unique online platform, StoryWeaver, is a playground where children, parents, teachers and librarians can get creative, using the resources to make your own unique books online.
About Creative Commons
Content under Creative Commons licenses can be downloaded, translated and can even be used to create new stories ‐ provided you give appropriate credit, and indicate if changes were made. To know more about this, and the full terms of use and attribution, please visit the following.
If you enjoyed this book, you might like also like these free children's books on flying:
For those who dream to fly, to sow the seeds for those who want to make flying real. A beautifully illustrated early non-fiction children's picture book, including some fun facts about learning to fly, how planes fly, aviation in India, including India's first woman pilot, and some fun activities. Another great creative commons, Level 3 book, from Storyweaver.
By: Aditi Sarawagi and Lavanya Karthik
An early non-fiction book about all the different types of aircraft, from jets to blimps and everything in between. This book is aimed at early grades, with simple language and lots of pictures.
Author: Danielle Bruckert
See more Adventure books below
See more books by Pratham's Storyweaver below
---
Sponsored Links:
Note – if you sign up through these links, it doesn't cost you any extra, but FKB receives a small donation, which helps us with our project to buy more FREE Hardcopies   for kids who need them

All our posts are checked by Grammarly, the FREE online grammar checker (We still receive a donation even if you only sign up for the free account :-):