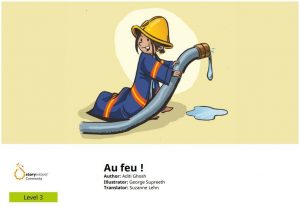 Au Feu! is the french version of Fire Fire. A story about fire safety and what to do whenever in an emergency situation. Ana moved to Mumbai, she misses a lot of things but especially Mando her dog back in Goa her hometown. After school Ana goes with her father to deliver letters and parcels. Ana sees a lot of new things in Mumbai like the red speaker box and the strange looking shower head on the ceiling. But soon she will learn what those are for and remembers her dog Mando who makes noise to save them from trouble.
Author: Aditi Ghosh, Illustrator: George Supreeth
See also the English version of Fire! Fire! here on Free Kids Books.
Text and Images from Au feu ! – A story about fire safety French
Quand Ana quitta sa ville natale à Goa pour aller vivre à Mumbai, elle était très excitée. Mais elle était aussi
triste de laisser son oncle, sa grand-mère, ses amies et surtout… Mando.
Mando était un chien sérieux qui passait ses journées à dormir paisiblement. Mais chaque fois qu'il y avait un mariage dans le voisinage, il pleurait lamentablement jusqu'à ce que l'oncle d'Anna arrête de jouer de son violon!
Ana aimait Mando. Elle savait qu'il la protègerait toujours des inconnus et des dangers. Et du bruyant violon de son oncle !
Mumbai était une ville bruyante. Le chant des oiseaux, les cloches de l'église et la musique du village manquaient à Ana. Mais pas le violon de son oncle !
Parfois, après l'école, Ana accompagnait son papa dans sa tournée pour distribuer les lettres et les paquets.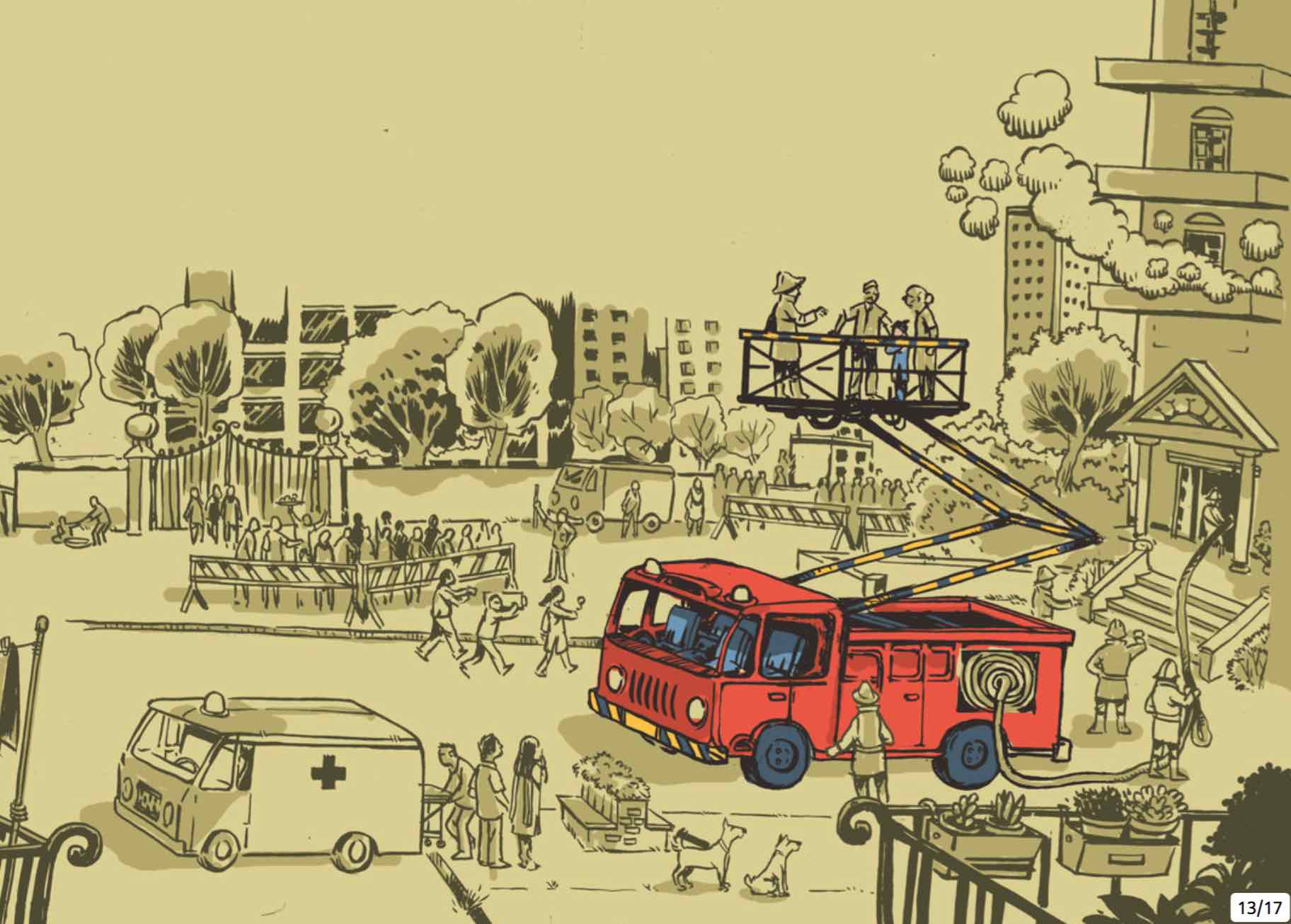 Ana attendait avec impatience ses montées en ascenseur. Un jour, elle appuya subrepticement sur tous les boutons. L'ascenseur s'arrêta à tous les étages !
A chaque étage, il y avait un haut-parleur dans une boîte rouge sur le mur. Et une drôle de pomme de douche sur le plafond. "Qui voudrait bien prendre une douche ici?" se demanda-t-elle.
<end of sample>
See more books in French below