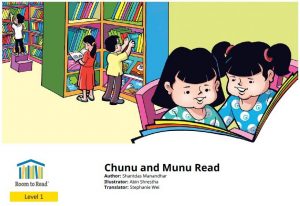 Chunu and Munu Read tells the story of two girls and how they come to love reading books, they spend their time inside the library and begin to love books by discovering wonderful pictures, amazing stories, and knowledge they can learn through reading.
Chunu and Munu Read is brought to us by Pratham's Storyweaver and is classified as English Level 1 book.
Pratham's Storyweaver Books are leveled according to age and reading skills of children, level 1 books are mostly targeted to children age 2 – 5 years old, here new words are introduced to them to learn and practice through reading. Along with these words are colourful and fun pictures to keep the little ones interest on the book.
Chunu and Munu Read (English), translated by Stephanie Wei, based on original story पढ्नु धैरे रमाइलो! (Nepali),
written by Shantdas Manandhar, illustrated by Abin Shrestha, published by Room to Read (© Room to Read, 2008)
under a CC BY 4.0 license on StoryWeaver. Read, create and translate stories for free on www.storyweaver.org.in
Sample from Chunu and Munu Read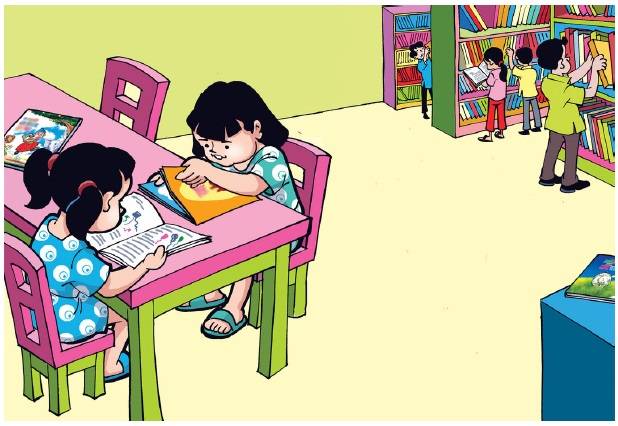 Chunu and Munu are reading in a library.
"Chunu, look at this boy spinning around.
This picture is so nice!"
"Munu, look at these red blossoming flowers."
"Chunu, look at these beautiful butterflies with different colored wings."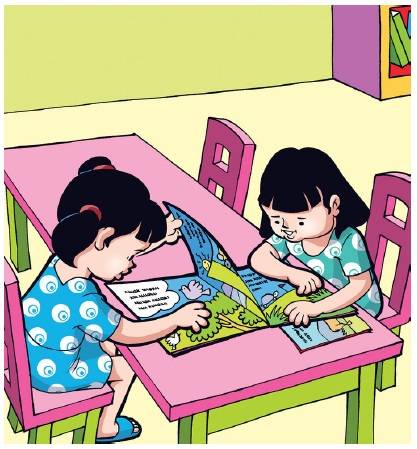 In the library, there are books with wonderful pictures here, there, and everywhere!
"Chunu, read this. It is a book filled with songs."
"Munu, please tell me a story."
"Please tell me a story that touches the heart."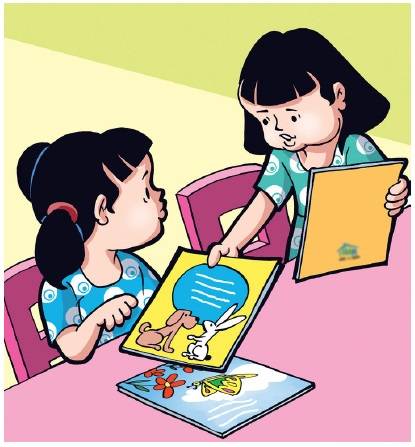 "Come Chunu, let's sit together.
You take one book, and I will take another one.
Let us read together."
"Oh, what is this? A dog and a rabbit going to school!"
"Look at this bear sitting on a chair! He has warm eyes."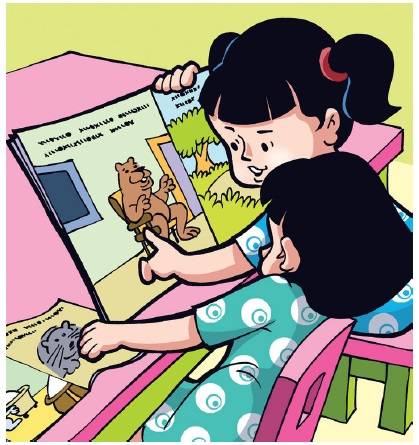 "I will tell you a story. Which one do you want to listen to?
A story about a rabbit or a dog?"
"Tell me a story with lots of art and pictures."
"I'm so happy to be at the library.
I will come here everyday to read books."
"Chunu, let's take some books home where we can also enjoy reading them.
Books can be our friends.
Let's read books, let's love books!
<end of sample>
About Pratham, Read India
Pratham Books was set up in 2004, as part of the Read India movement, a nation-wide campaign to promote reading among children. Pratham Books is a not-for-profit organization that publishes quality books for children in multiple Indian languages. Pratham's mission is to see "a book in every child's hand" and democratize the joy of reading.
Pratham's books are available now in digital form on the Storyweaver platform.
Read Chunu and Munu Read French Version Below.
French Version Chunu and Munu Read
See more Pratham Storyweaver
books'
below
See more books in French below
---
Sponsored Links:
Note – if you sign up through these links, it doesn't cost you any extra, but FKB receives a small donation, which helps us move towards our aim of
FREE Hardcopies!  
All our posts are checked by Grammarly, the FREE online grammar checker (We still receive a donation even if you only sign up for the free account :-):