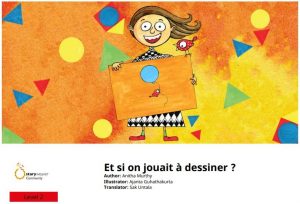 Et si on jouait à dessiner ? – The Drawing Game French Jeenu is spending summer with her Ajji, she was bored because she has no friends to play with. She ask her Ajji to play with her. This is an early Geometry books for children that combines shapes, counting and imagination. A good way to boost young readers creativity while teaching them how to draw using shapes and counting.
Author: Anitha Murthy, Illustrator: Ajanta Guhathakurta
Text and Images from Et si on jouait à dessiner ?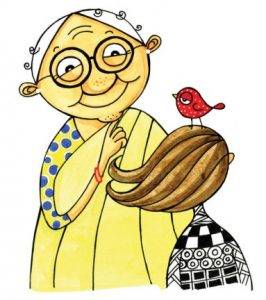 Jeenu passe ses vacances d'été chez sa grand-mère. Elle n'a pas d'amis là-bas et elle s'ennuie.
— Joue avec moi, Ajji, dit-elle.
— Va chercher une craie, répond Ajji. Nous allons faire un jeu.
Jeenu est ravie. A quoi vont-elles bien pouvoir jouer ensemble ?
— Tu sais ce que c'est ? demande Ajji en dessinant une forme par terre.
— C'est un cercle, répond Jeenu. Jeenu fait la grimace. Elle n'aime pas du tout ce jeu stupide.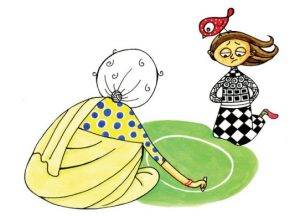 — Oui, mais regarde bien, ce n'est pas juste un cercle, indique Ajji. Jeenu se met à réfléchir.
— C'est aussi un visage qui sourit, dit-elle en riant.
— Bravo, je vois que tu as compris le principe de mon jeu, répond Ajji en applaudissant.
<end of sample>
Read the full book by selecting one of the buttons below the post.
Et si on jouait à dessiner ? English Version below:
Read this book in English here.
See more books in French below