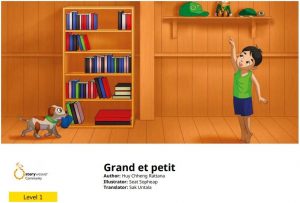 Grand et petit – Tall or Short French In this story the little boy comparing the height of each family members from tallest to shortest and who is taller or shorter than who. After reading this book young children and early readers will understand the concept of height.
Author: Huy Chheng Rattana, Illustrator: Seat Sopheap
Text and Images from Grand et petit – Tall or Short French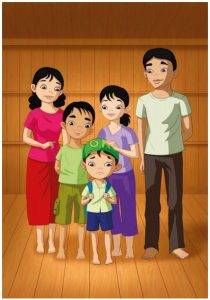 Papa attrape ma casquette.
Papa est grand.
Maman attrape ma chemise.
Papa est plus grand que Maman.
Ma sœur prend mon livre.
Maman est plus grande que ma sœur.
Mon frère prend mon sac.
<end of sample>
Read the full book by selecting one of the buttons below the post.
Grand et petit English version below:
Read this book in English by selecting the above link.
See more books in French below