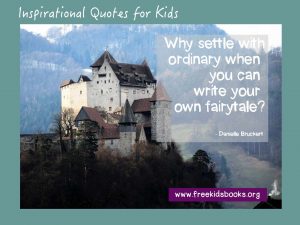 Inspirational Quotes for Kids is a collection of 22 inspiring and beautifully set quotes and stories from well known and less well known people. All the quotes included are designed to create positive thinking and foster attitudes of open minds and
Each beautiful quote is set to an equally beautiful picture that depicts the essence of the quote, from Dr Seuss to Mark Twain, Gandhi to Jessie Jackson, teach a man to fish, and the starfish thrower stories, this book tells wonderful pieces of wisdom that if you haven't heard them before make wonderful inspiration.
The quotes in this book can be a perfect prompt for journalistic writing exercises and lessons, for example as introspective pieces on the concepts, eg write an essay on what the you think the author meant, or on what the quote means to you, or research and write an essay on the person who said/write the quote, where and why.
These pictures can also be turned into inspiring photos for example put the pictures on your noticeboard or share them anyhow you like.
The material in this book is published under creative commons – CC-BY-SA, so this may be used how you wish, so allowing books to fly free on the internet!
Select the buttons below the post for the free pdf or the flipbook of inspirational quotes for kids, and enjoy an inspiring New Year from Free Kids Books!
This book is also available in an editable format (odg – open office draw) – here: https://freekidsbooks.org/wp-content/uploads/2020/01/Inspirational_Quotes_For_Kids_2020-FKB.odg
Contents from Inspirational Quotes for Kids 2020
It's your attitude that counts – 4
Kindness – 5
Best job – 6
Glass half full – 7
All the good things in life – 8
Give them your smile – 9
The power of eduction – 10
Failure and success – 11
Your consent – 12
Think differently – 13
Tides, with and against – 14
The pen is mightier than the sword – 15
Unless you care – 16
Against Odds – 17
Accept and be you – 18
No action, no mistakes – 19
Never look down on anyone – 20
Why fit in? – 21
The starfish – 22
Be kind – 23
Be the change – 24
20 years from now – 25
Fairytales – 26
Read along with the video of this book, read by Kiwi Opa,
See more of our inspirational books for older children and young adults below
---
Sponsored Links:
Note – if you sign up through these links, it doesn't cost you any extra, but FKB receives a small donation, which helps us with our project to buy more FREE Hardcopies   for kids who need them
All our posts are checked by Grammarly, the FREE online grammar checker (We still receive a donation even if you only sign up for the free account :-):