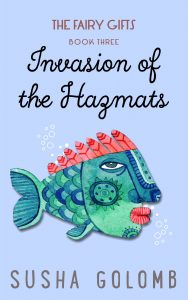 Anyone who can eliminate their enemies by eating them is a formidable foe. Anyone would be the Hazmats, insaniac shape shifters whose mindless greed is threatening the continued existence of the Abyssmal Cities. Is Miriam Mermelstein doomed to follow in their footsteps?
Miriam Mermelstein is changing and it's not puberty. Just what is she becoming? Well it depends on whom you talk to. According to a certain nasty person, her fate is sealed and there is nothing she can do about it.
This is a humorous middle grade fantasy adventure about getting along with difficult people. Third in the series, The Fairy Gifts,  this book is ideal for ages 8-10.
Save