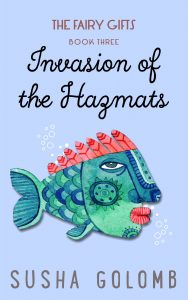 Invasion Of The Hazmats – Anyone who can eliminate their enemies by eating them is a formidable foe. Anyone would be the Hazmats, insaniac shape shifters whose mindless greed is threatening the continued existence of the Abyssmal Cities. Is Miriam Mermelstein doomed to follow in their footsteps?
Miriam Mermelstein is changing and it's not puberty. Just what is she becoming? Well it depends on whom you talk to. According to a certain nasty person, her fate is sealed and there is nothing she can do about it.
This is a humorous middle grade fantasy adventure about getting along with difficult people. Third in the series, The Fairy Gifts,  this book is ideal for ages 8-10.
Sample Text from Invasion Of The Hazmats
INVASION OF THE HAZMATS


PART I
JOURNEY TO THE ABYSSMAL ZONE
CHAPTER 1
A LESS-THAN-WILLING SORCERER'S APPRENTICE
I wasn't born with a fish tail. It isn't even a permanent arrangement but it means I could finally visit my adoptive grandparents, formerly known as Grandma and Grandpa Mermaid. Who knew the stories my parents told me when I was little were true?
I was officially here on a summer visit—my first—with my grandparents but plans change. Sidetracked is probably a better way to describe it. I am now officially apprenticed to the rogue Sky, Zazkal.
The work/study thing was an add-on, meant to give me some basic life skills in magic and to give Zazkal some basic life skills, period. Since he hated being with other people, it was a sort of punishment for kidnapping me and my sampo. What he really wanted was the sampo, but since we can't be separated, he was stuck with me, too.
Zazkal was waiting for me when I arrived. He did not look happy to see me. No 'hello'. No 'how was your trip?' As soon as I showed up, he turned tail and I followed. He led me directly to his workshop, the largest of a series of interconnected natural openings inside the remote coral atoll where he lived and worked.
"Memorize the name and location of everything in this room. The least you can do is learn to fetch things when I am working."
That was it. My entire first lesson. He swam off muttering under his breath about wasting time. I couldn't decide whether to be offended or overwhelmed.
Every wall in the big room was covered with ceiling-high wicker chests of drawers. All the chests were bolted down and all the drawers were latched shut, not unlike the cabin of a ship, and for much the same reason, only they were under the water instead of on it.
I swam to the nearest wall and began pulling open one drawer after another. Every one of the unlabeled drawers must have contained a dozen or more jars and bottles of strange-looking stuff. I decided to be overwhelmed.
Groaning, I floated limply to the floor. For a full five minutes, I sat there staring wide-eyed at the endless supply of supplies.
Finally, I took a deep breath, swam over to the nearest chest of drawers and got to work.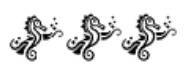 <end of text>
See more books about Adventure below
See more books by Susha Golomb below
---
Sponsored Links:
Note – if you sign up through these links, it doesn't cost you any extra, but FKB receives a small donation, which helps us with our project to buy more FREE Hardcopies   for kids who need them

All our posts are checked by Grammarly, the FREE online grammar checker (We still receive a donation even if you only sign up for the free account :-):