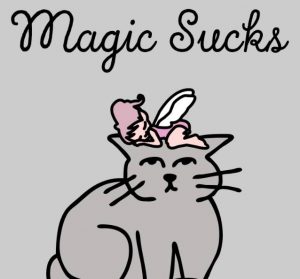 Every kid wishes for magic, but not Miriam Mermelstein, for her magic sucks. She firmly believes her parents' fairy stories are just that, and she's too old to be told stories. She wished for something real, what she thought was missing, but what she got was far more than she expected.
Magic Sucks is a humorous middle-grade fantasy about miscommunication between young people and adults. Not all of the adults in this story are human. Total words  34,340.
SAMPLE TEXT FROM THE BOOK:
It is not true that cats can't see colors. It's just not that important to us. A cat's world is filled with exciting movements, sounds and smells. I mean, who cares what shade of gray a mouse is?
This is why, for me, the charm of dragonflies is in their mouth-watering quick, darting movements and the appetizing crinkly noise I can hear their wings make. But I have to admit, watching the iridescent shine their wings take on in the light is one of the times that I do enjoy color as part of an overall food display. The group of dragonflies that I was watching that day, almost ten years ago displayed all of these qualities and were very pleasant to watch.
I had been stalking my family. Fun, but not very challenging. They had no idea they were being followed. It was a warm afternoon and their walk had been hijacked by a nap under an impressively large oak tree. Baby Miriam was in her carriage, her parents, heads touching as they leaned against each other, were sitting on the remains of a stone bench that had once wrapped all the way around an ancient triple trunked oak.
Because dragonflies are so much creatures of the open air, I noticed right away when several of them flew into the shade. I saw how even to me, the colors of their wings seemed to intensify in the shade. In fact, in the shade, instead of losing their sun-colors, I was able to see that each of the dragonflies was actually a different color.
Soft snores came from Miriam's parents who didn't see another unusual dragonfly quality…Curiosity. The `dragonflies' who, on closer inspection, looked suspiciously like tiny winged people, flew around the humans as if examining them and then flew over to see what was in the carriage. The faintest whisper drifted to my sensitive ears.
"Look at her ears. She must have elf ancestry." "Hush, Poppy. You'll wake the humans."
"But Farthingale. She's one of us. Can't we keep her?"
"Husshhh," they all chorused together, like a rustle of falling leaves.
"Elf ancestry," I thought. "I knew I was right about this family. This is perfect."
<End of Page 1 from Magic Sucks – middle-grade fiction by Susha Golomb>
 If you enjoy middle-grade fantasy fiction, check out More From Susha Golomb here: Susha Golomb on Free Kids Books
Check Out More Chapter Books here:
See more books by Susha Golomb
---
Sponsored Links:
Note – if you sign up through these links, it doesn't cost you any extra, but FKB receives a small donation, which helps us move towards our aim of
FREE Hardcopies!  
All our posts are checked by Grammarly, the FREE online grammar checker (We still receive a donation even if you only sign up for the free account :-):