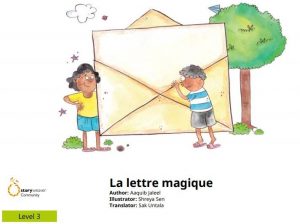 La lettre magique – The Magic Letter French – A story about two boys who are best of friends, even though they lived far away from each other they remain friends and they exchange letters together. Vikram sends letters with puzzles and Ijas loved solving them. One day in the day of Eid Vikram has sent something different. The letter is blank but Ijas know it is a magic and a mystery that he has to solve.
Author: Aaquib Jaleel, Illustrator: Shreya Sen
Text and Images from La lettre magique
Ijas habite à Haryana et Vikram à Andhra Pradesh, en Inde.
Malgré la distance qui les sépare, ils sont très bons amis.
Il n'y a encore pas si longtemps, ils étaient voisins.
Ils adoraient jouer au cricket ensemble, résoudre des énigmes,et déguster du biryani*.
Ils ont tout fêté ensemble,y compris leurs anniversaires et toute sorte de festivals.
* plat indien à base de riz, avec des épices, de la viande et des légumes.
Ijas a été très triste quand son meilleur ami a déménagé, mais les lettres de Vikram lui remontent toujours le moral.
Il ADORE résoudre les énigmes que Vikram lui envoie.
<end of sample>
Read the full book by selecting one of the buttons below the post.
La lettre magique English version below:
Read this book in English here.
See more books in French below