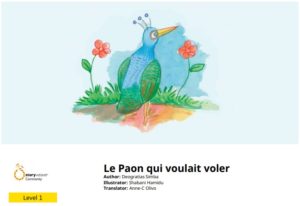 Le Paon qui voulait voler is the French version of The Peacock Who Wished to Fly, Tausi is a kind and peaceful kind of bird. He dreamed that one day he wanted to fly as far as the other birds and see wondrous places. But Peacocks are not known to fly far and other birds make fun of him about it. One day Tausi had a plan. He started collecting feathers from other birds hoping this would make him fly high and far. This is The Peacocks Tale in French.
This is a level 1 French book suited for children who want to learn how to read brought to us by Room to Read Licensed under creative commons.
Author: Deogratias Simba Illustrator: Shabani Hamidu
Text and Images from Le Paon qui voulait voler – Peacocks Tale French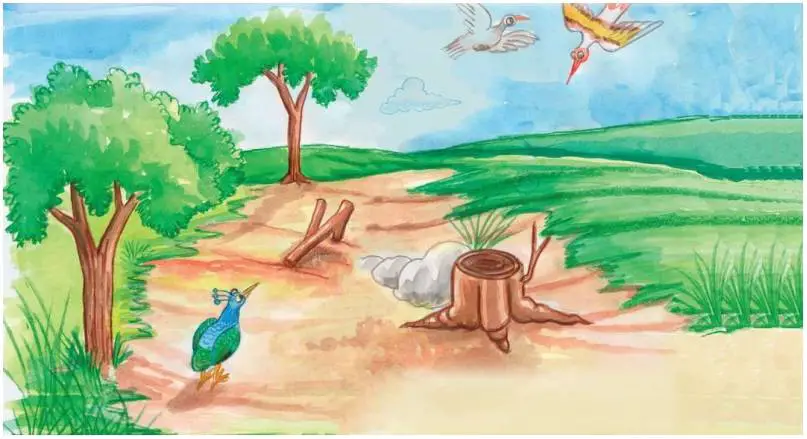 Tausi, le Paon, était un oiseau très doux et gentil.
Il s'entendait bien avec tous les autres oiseaux. Mais Tausi avait un rêve.
Plutôt que de picorer le sol, il voulait s'envoler vers des contrées lointaines.
end of sample – Peacocks Tale French
Le Paon qui voulait voler English Version below:
The Peacock Who Wished to Fly – The Peacocks Tale and how the peacock got it's feathers. Tausi the Peacock live in peace with other birds, admiring how other birds can fly far and wanted to fly far also. But he cannot even fly far in order to collect food and the other birds mock him for it.
See more books in French below