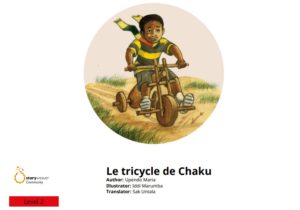 Le tricycle de Chaku – Chaku's Cycle French This story is about being resourceful and creativity. Chaku saw Lila's new bike and he wanted to create a tricycle for himself. He uses materials that he has found and borrows tools from his uncle. Lila helps make the tricycle strong.
Le tricycle de Chaku is rated as French level 2 licensed under creative commons brought to us by Pratham's Storyweaver.
Author: Upendo Maria Illustrator: Iddi Marumba Translator: Sak Untala
Text and Images from Le tricycle de Chaku – Chaku's Cycle French
Chaku aimait jouer avec ses amis.
Il aimait le tricycle de Lila.
Il décida de fabriquer son propre tricycle.
Il chercha des morceaux de bois.
Il se souvint qu'il lui fallait aussi des clous et un marteau.
Il alla demander de l'aide à son oncle.
L'oncle de Chaku lui donna les outils dont il avait besoin et lui recommanda de faire bien attention.
Chaku réfléchit à la façon dont fabriquer son tricycle.
Puis il se mit au travail.
Quel magnifique tricycle !
Mais il n'était pas très stable.
Lila vit que Chaku avait des difficultés.
Elle décida de lui venir en aide.
Ensemble, ils fabriquèrent un tricycle très solide.
Chaku ne quittait plus son tricycle.
Mais ce qu'il préférait, c'était quand Lila et lui faisaient du vélo ensemble.
<end of sample>
Le tricycle de Chaku English Version below:
Chaku's Cyle – Chaku saw Lilas tricycle and he liked it a lot. He decided to make one and need his uncles help for tools in building a tricycle on his own. Chaku was very resourceful although he manage to make a very nice looking tricycle it was not sturdy enough to ride.
See more book in French below