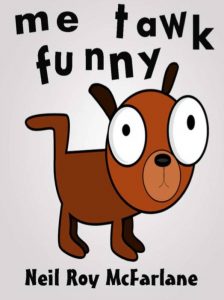 In, Me Tawk Funny, another well-told tale from Neil McFarlane, our main character finds a good reason to study in this tale of heroes and villains.
Would you think you were crazy if your dog suddenly started talking? Buster initially talks a bit funny, but slowly better and better. Then he starts going to school. A cute tale including a super villain – Professor Evil, and the masterful Captain Canine, who keeps biting him on the bottom. In the midst of it all buster and the events of the story inspire our main character Hector Dumble to be a better student, by trying harder and studying more, so as to fulfill his dreams.
Excerpt from Me Tawk Funny
Hector Dumble thought the name 'Hector Dumble' was a really dumb name
"Of course it isn't," said Mrs Dumble. "It's a very cool name."
"It's not cool," said Hector. "It's dumb – just like me."
"Don't be silly Hector," said Mrs Dumble. "You're not dumb. You just need to study harder, that's all."
Hector was bottom of the class. One problem was his teacher Mr Weazel. Mr Weazel always seemed to be picking on Hector and making him do lines and giving him extra homework and making him stay behind class. Hector didn't like Mr Weazel and it seemed that Mr Weazel didn't like Hector.
Another problem was that Hector just didn't want to study. He wanted to go outside and have fun. And what was it with all these exams anyway? It sometimes seemed to Hector that life was just one exam after another, an endless procession of exams stretching off into the future. Would they ever end?
You might think Hector was lazy but actually he was a very active boy. He wasn't one of those kids who just likes to stay in and watch TV all the time. Hector liked to go out and ride a bike and kick a ball and go fishing and play with Buster and that kind of thing.
Buster was the Dumbles' dog. Hector and his father had found him on a fishin trip one time. Buster had beed abandoned and was lying on the grass by the river. He was so hungry he couldn't walk. His ribs were sticking out and he was the skinniest dog you ever saw in your life. Hector's father didn't think Buster would live but they carried him to the car and took him home anyway. They fed Buster and he soon put on weight and after a couple of weeks he was jumping around and fetching sticks just like any other dog.
Mrs Dumble said she didn't want a dog because it was enough work lookinh after Hector and Mr Dumble and they weren't going to keep Buster. But she changed her mind in the end because Buster was such a nice dog that she couldn't help growing to like him. Everyone liked Buster
<end of excerpt>
About the Author: Neil Roy Mcfarlane
Neil Roy McFarlane is from the UK. He lived in Asia for over ten years and speaks passable Chinese. He writes in his spare time. He realized he wanted to be a writer when he was 8 years old, he fell in love with reading and thereby living in other worlds. He believes that a writer is a great puppeteer who can create worlds.
He would wake up at five in the morning and usually write for a couple of hours during weekdays before he goes to work. Then he would write some more when he is on the train to and from work using scraps of paper. He even uses train tickets and till receipts when he runs out of paper.
If you're looking for more books from Neil, check out the Neil Roy McFarlane Author Category or purchase other books from Neil on Amazon.
5 Fun Bedtime Stories contains five amazing adventures. In each adventure, the centre of the story is the listener, and mysteriously for a host of reasons, the listener has forgotten, so the reader reminds them of everything that happened during the day. From aliens to submarines, underground adventures to pirates this book has it all. …
In The Kung-Fu Grasshoppers, the grasshopper's children are taken prisoner by a hungry monster. Two strangers arrive in the grasshopper village, an old man and his granddaughter. Who are they, and can they help to save the grasshopper children from the evil monster who holds them prisoner in the nearby woods? This suspense-filled tale of …
There's many more books like this in our older children category.
The story follows the adventures of Bob Halibut, a young man who inherits a tremendous fortune from his grandmother. After meeting her cybernetic llama butler, Jeeves, Bob learns that, in her youth, his grandma was an Indiana Jones-style treasure-hunter. Under Jeeves' guidance, Bob follows in his grandmother's footsteps and travels to Egypt, where he …
Anyone who can eliminate their enemies by eating them is a formidable foe. Anyone would be the Hazmats, insaniac shape shifters whose mindless greed is threatening the continued existence of the Abyssmal Cities. Is Miriam Mermelstein doomed to follow in their footsteps? Miriam Mermelstein is changing and it's not puberty. Just what is she becoming? …
Written by Marsha Landau and Illustrated by S. D. Monahan
In Steps of Wonder, Ms Mathis' class is taught to always wonder when they are bored, never to just sit idle. This leads from waiting for a bus at a school trip to an exciting maths challenge using steps. The maths challenge is so exciting the whole class is absorbed in working out the problem. …
In No Ordinary Lizard, a middle-grade adventure, Ruth and her lizard Benson go on an incredible journey. If you had a secret pet who was smart enough to write you messages, how far would you go to protect him? This is the question 11-year-old Ruth Patterson faces every day. To keep her secret, Ruth must …
---
Sponsored Links:
Note – if you sign up through these links, it doesn't cost you any extra, but FKB receives a small donation, which helps us move towards our aim of
FREE Hardcopies!  
All our posts are checked by Grammarly, the FREE online grammar checker (We still receive a donation even if you only sign up for the free account :-):


This site is hosted by Bluehost:

Leave a comment (it won't be public) if you want help getting your own website cost-effectively.