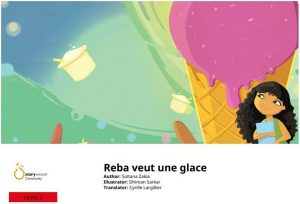 Reba veut une glace – Reba Wants Ice Cream French – In this story Reba wanted to have some ice cream but her mama told her she needs to finish her homework first. But she needed to buy a new notebook to do that, mama send her off to an errand. This is a short story about honesty with a little bit of math.
Author: Sultana Zakia, Illustrator: Dhiman Sarkar
Text and Images from Reba veut une glace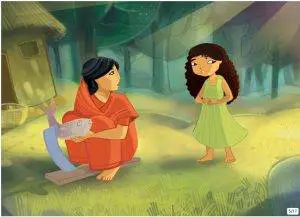 « Une glace ! Qui veut une glace ? »
dit le marchand.
Reba courut vers sa mère.
« Maman ! Maman ! Je veux une glace ! »
« Termine d'abord tes devoirs, »
répondit Maman.
Reba avait l'air malheureuse.
Maman demanda : « As-tu déjà fini tes devoirs ? »
« Mmm… Non. Mais mon cahier est plein ! Je dois
en acheter un autre. »
<end of sample>
Read the full book by selecting one of the buttons below the post.
Reba veut une glace English version below:
Read this book in English on the above link.
See more books in French below