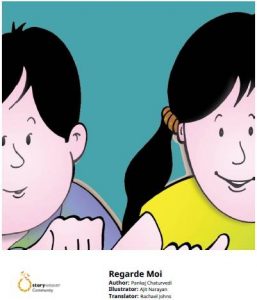 Regarde Moi – is the french version of Look at Me, a story about children telling us how they use different body parts and the fun they have with it. This is a delightful and fun story for young children to learn different nouns and related verbs for the body and the different senses.
This is a French Level 1 book brought to us by Pratham's Storyweaver. This is suited for children ages 2 – 5 years old, it has a few words with lots of pictures to help illustrate the meaning of the words, aiding children in learning new words and recognising the text as they learn to read.
Regarde Moi (French), translated by Rachael Johns, (© Rachael Johns, 2017) from Look At Me (English), by Pankaj Chaturvedi based on original story यह मैं हूँ (Hindi), written by Pankaj Chaturvedi, illustrated by Ajit Narayan, published by Pratham Books under a CC BY 4.0 license on StoryWeaver. Read, create and translate stories for free on www.storyweaver.org.in
Text from Regarde Moi – French Level 1 Book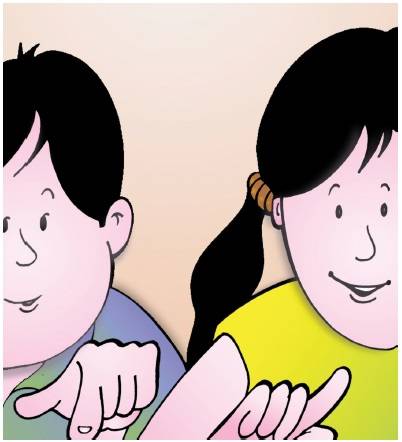 Regarde nous.
Voulez-vous être notre ami?
J'adore courir.
Je peux courir très vite avec les jambes fortes.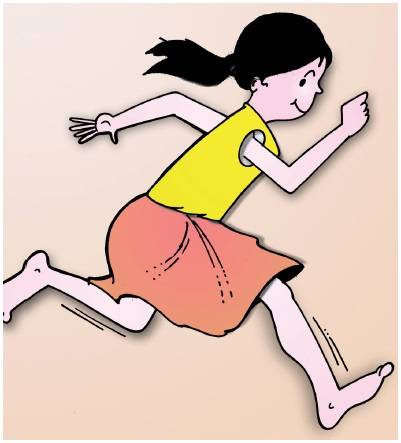 Et les bras…je peux me balancer avec eux!
J'amie dessiner.
J'utilise les mains pour dessiner l'image.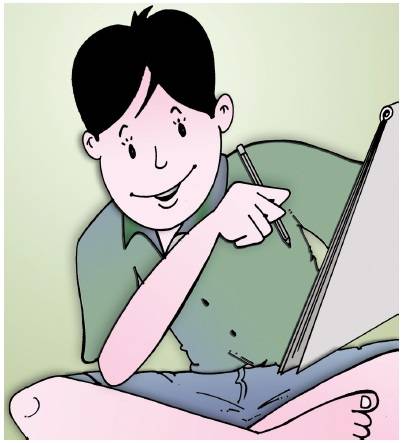 Est-ce que je devrais dessiner votre dessin?
Je peux vous voir avec les yeux.
L'oiseau chante une chanson douce.
Je peux l'entendre avec les oreilles.
Je pense que ma mère es cuisiner halva.
Je peux le sentir avec le nez.
Oh! Ce canne à sucre est très dure! Mais les dents sont
très fortes aussi!
Ce sont très doux!
La langue m'a dit.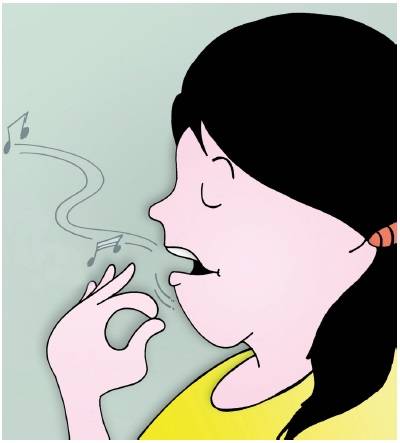 Je peux chanter.
Est-ce que je devrais chanter un chanson?
Ma mère m'a dit que j'ai un voix très bien.
Cela vient de la gorge.
<end of sample>
About Pratham, Read India
Pratham Books was set up in 2004, as part of the Read India movement, a nation-wide campaign to promote reading among children. Pratham Books is a not-for-profit organization that publishes quality books for children in multiple Indian languages. Pratham's mission is to see "a book in every child's hand" and democratize the joy of reading.
Pratham's books are available now in digital form on the Storyweaver platform.
Read Regarde Moi
in These Versions Below.
English Version
Spanish Version
See more books in French below
See more books from Pratham/Storyweaver below
---
Sponsored Links:
Note – if you sign up through these links, it doesn't cost you any extra, but FKB receives a small donation, which helps us move towards our aim of
FREE Hardcopies!  
All our posts are checked by Grammarly, the FREE online grammar checker (We still receive a donation even if you only sign up for the free account :-):