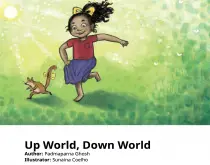 Up World, Down World – In a canopy forest in India, the Up World and Down World have always been suspicious of each other. But it all changes when Gopa the dormouse drops her book by accident on Fatima's head. A story about the biodiversity of the canopy forests and friendship. The book introduces some common forest canopy animals, with an epilogue of facts which makes a great starting point for a school project. This book is another great creative commons book from Storyweaver and Pratham Books.
By: Padmaparna Ghosh Illustrator: Sunaina Coelho
Sample Page From Up World, Down World: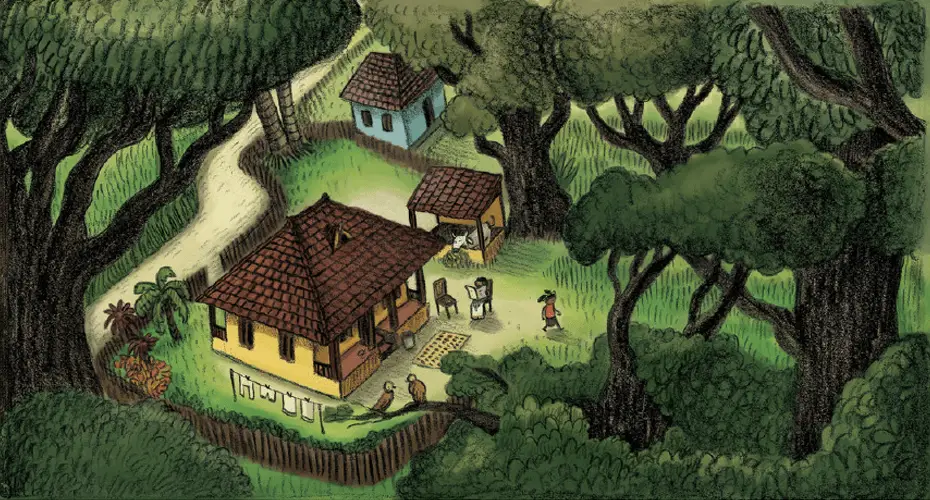 Fatima loved Sunday afternoons. After a lunch of beans and kofta, Maa would read the newspaper on her favourite chair and Baba would sneak away to take a nap.
<End of Sample Page From Up World, Down World>
About Pratham Books
Pratham Books goes digital, FKB  is helping with their aim to get a book in every child's hand!
Storyweaver, their digital platform is provided to weave a whole new chapter in the realm of multilingual children's stories. Knitting together children, authors, illustrators and publishers. Folding in teachers, and translators. Creating a rich fabric of openly licensed multilingual stories for the children of India and the world. Their unique online platform, StoryWeaver, is a playground where children, parents, teachers and librarians can get creative, using the resources to make your own unique books online.
About Creative Commons
Content under Creative Commons licenses can be downloaded, translated and can even be used to create new stories ‐ provided you give appropriate credit, and indicate if changes were made. To know more about this, and the full terms of use and attribution, please visit the following.
Check Out More Books from Pratham and Storyweaver:
Naughty or Not is a fun read for young children, and entertaining for toddlers. Are they being good today, or naughty? Learn interactively through interesting questions and answers.
Story of Stories is a picture book about a writer bear following his dream to write. What would happen if you were a journalist but there was nothing to write about? Should you give up writing? Or should you find another way to follow your dream?
Does it seem journalists have to write breaking stories about bad stuff all the time? What if they wrote about funny, happy, moving, or even sad, and scary stories? If a story had more depth wouldn't people enjoy it more?
Dive! explores the underwater world, stepping you through the experience of going scuba diving on a coral reef. Take a dive with us into the spectacular world of coral reefs, and catch a glimpse of some strange and beautiful sea creatures!
See more books about Conservation below
---
Sponsored Links:
Note – if you sign up through these links, it doesn't cost you any extra, but FKB receives a small donation, which helps us with our project to buy more FREE Hardcopies   for kids who need them

All our posts are checked by Grammarly, the FREE online grammar checker (We still receive a donation even if you only sign up for the free account :-):