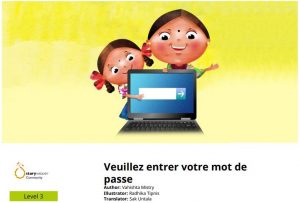 Veuillez entrer votre mot de passe – Password Please – STEM fun French – In this story Manju a little girl who is fascinated with locks and keys learns how important a password is. She tries to guess her cousins password in order to play some games on her cousins phone but fails to do so. Children will learn how important privacy is and how to protect it. They will also learn how to make a strong password that will be hard to guess.
Author: Vahishta Mistry, Illustrator: Radhika Tipnis
Text and Images from Veuillez entrer votre mot de passe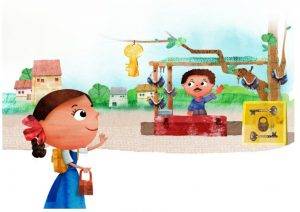 Manju vouait une fascination aux clés et aux serrures. Le léger cliquetis métallique d'une clé glissée dans une serrure la rendait folle de joie. Le trousseau de clés que sa maman portait attaché à son sari était son jouet préféré. Elle adorait explorer les profondeurs mystérieuses des trous de serrure.
Manju passait tous les jours en allant à l'école devant le stand de Ranjith, le serrurier du village. Elle aimait beaucoup entendre le crissement des outils tandis que Ranjith fabriquait des clés.
Un jour, la maman de Manju eut besoin de faire faire une nouvelle clé pour son armoire. Manju se rendit avec elle au stand de Ranjith. Ranjith prit un morceau de métal plat. — Qu'est-ce que c'est ? demanda Manju.
<end of sample>
Read the full book by selecting one of the buttons below the post.
Veuillez entrer votre mot de passe English version below
Read this book in English on the above link.
See more books in French below