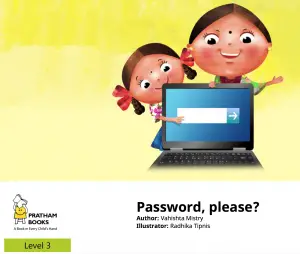 In Password Please we learn through this STEM book all about passwords, keys, and locks.
Another great book from Pratham and their Storyweaver platform.
Author: Vahishta Mistry, Illustrator: Radhika Tipnis
Text from Password Please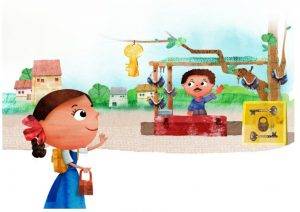 Manju was fascinated by locks and keys. The soft metallic sound of a key turning in a lock made her happy. The key bunch Mummy kept tied to her saree was Manju's favourite toy.
She loved to explore the mysterious depths of keyholes.
Manju passed the village locksmith Ranjith's shop on her way to school every day. She loved to listen to the rasping of the tools as he made new keys.
One day, Mummy needed to get a new key for her almirah.
Manju went with her to Ranjith's shop.
Ranjith picked up a flat piece of metal. "What is this?" Manju asked.
<End of Page 2 from password please>
About Pratham, Read India
Pratham Books was set up in 2004, as part of the Read India movement, a nation-wide campaign to promote reading among children. Pratham Books is a not-for-profit organization that publishes quality books for children in multiple Indian languages.
Pratham's mission is to see "a book in every child's hand" and democratize the joy of reading.
Pratham's books are available now in digital form on the Storyweaver platform.
Author: Shabnam Minwalla, Illustrator: Adrija Ghosh
Are you a Fish is a STEM level 2 ebook from Pratham about robot fish, a perfect book for early elementary school science to introduce children to the amazing world of marine robots. This book can be a stepping stone into a research project on the different types of marine robots available. Sample Pages from …
Author: Aaquib Jaleel, Illustrator: Shreya Sen
In The Magic Letter, a mystery letter from a friend results in a problem-solving exercise and provides a fun science experiment. Find out how to write a secret message in this fun STEM story book. Author: Aaquib Jaleel, Illustrator: Shreya Sen       Text from The Magic Letter Ijas lives in Haryana and Vikram …
In Sailing Ships and Sinking Spoons – lessons in buoyancy, Tenzin and Tashi, two young Tibetan monks, and Genla, the beloved storyteller of the monastery, wonder why a small steel spoon sinks in water but a huge ship floats. Their science teacher Miss Sonam helps them experiment with an apple, a spoon and a tub-full …
More books from Pratham are available in our Pratham-Storyweaver category.
---
Sponsored Links:
Note – if you sign up through these links, it doesn't cost you any extra, but FKB receives a small donation, which helps us move towards our aim of
FREE Hardcopies!  
All our posts are checked by Grammarly, the FREE online grammar checker (We still receive a donation even if you only sign up for the free account :-):


This site is hosted by Bluehost:

Leave a comment (it won't be public) if you want help getting your own website cost-effectively.