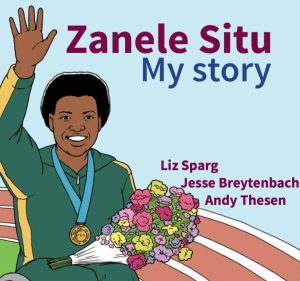 Zanele Situ's Story is the true story of the first African woman to win a gold medal at the paralympics, an amazing story of overcoming disability and achieving success despite extreme difficulty.
As a young girl Zanele Situ was told that she would never walk again. Loving sports she was very sad. But being in a wheelchair did not stop her. She worked and trained hard, and became a winning athlete on the world stage.
An inspiring biography that will make children think. The length and content are perfect for school projects in early grades.
Another great creative commons book from Bookdash.
Illustrated by Jesse Breytenbach
Written by Liz Sparg
Designed by Andy Thesen
Sample Text and Images from Zanele Situ's Story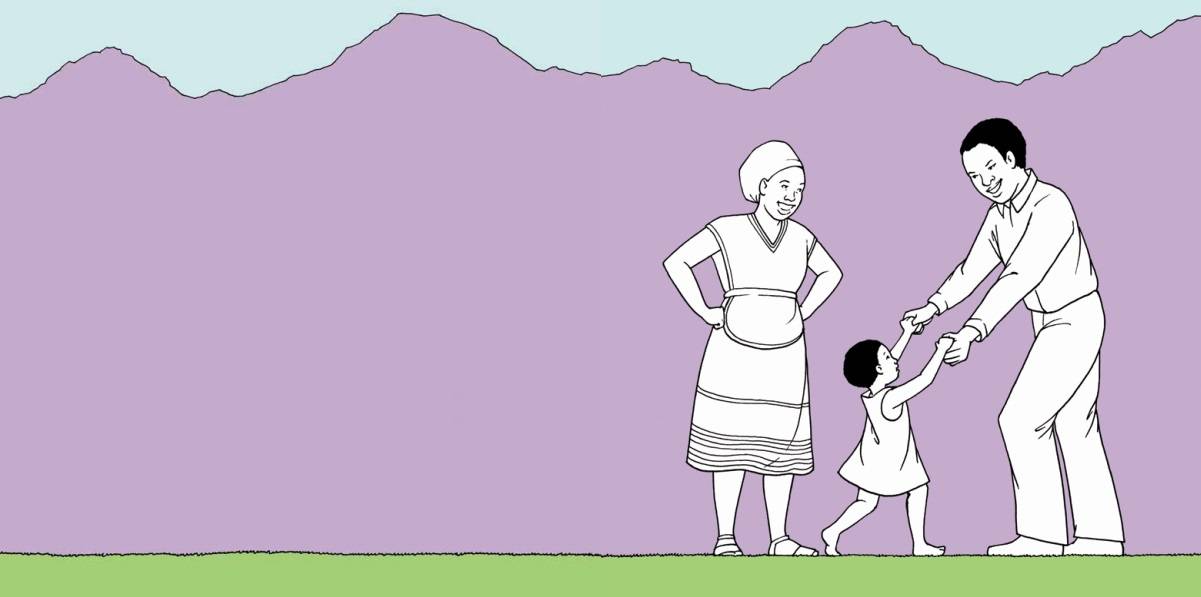 I was born in summer, in a town called Matatiele in the Eastern Cape. Matatiele is near Lesotho where there are many mountains. In the winter they are covered with snow.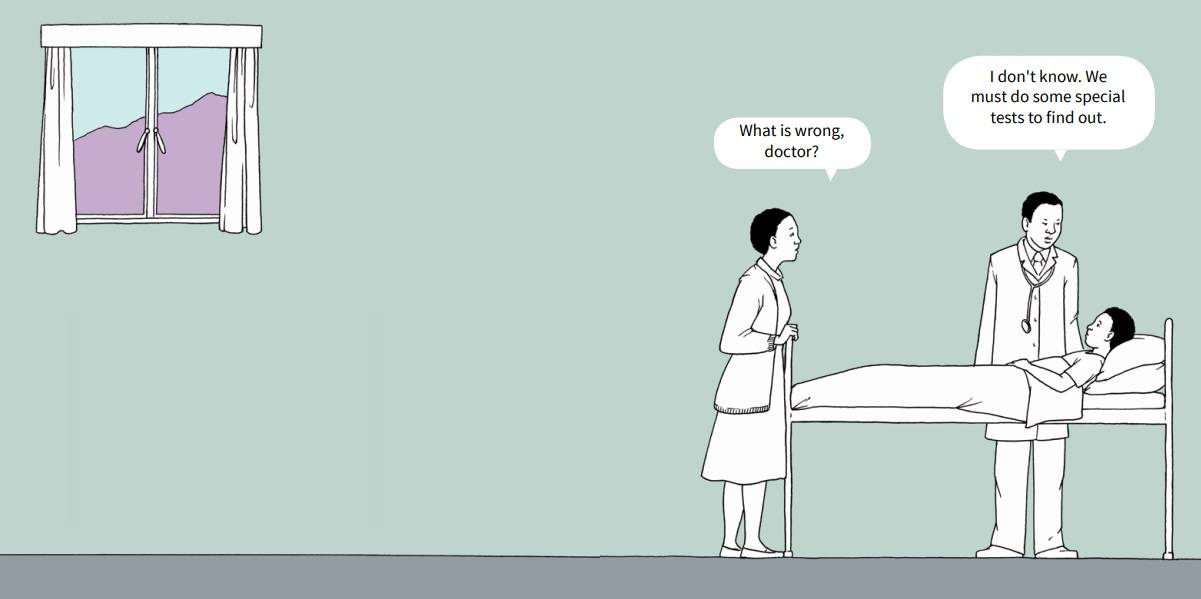 My father was a builder and he moved from place to place to find work. We moved to Lesotho and that's where I started school. I was very happy. But when I was eleven years old, I grew tired and weak, and then I couldn't walk. My parents took me to the hospital.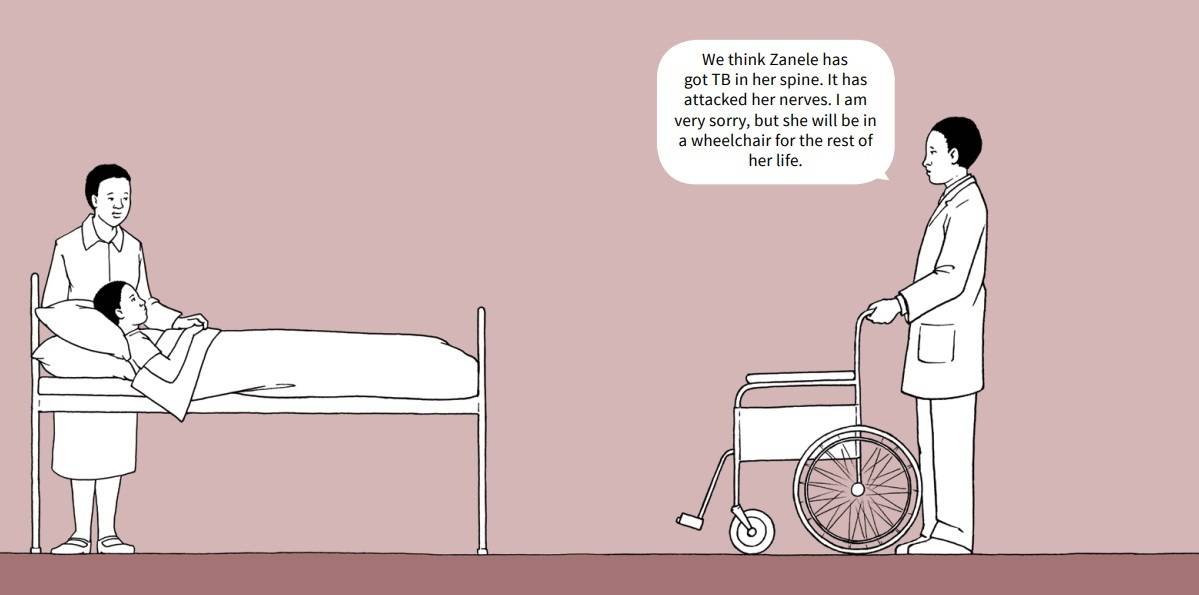 I had to stay in hospital for three years.I was very tired and I slept many hours every day. After three years the doctors told me I would not be able to walk again.
I was very sad because I love sports.
"Zanele has TB in her spine. It has attacked her nerves. I am very sorry, but she will be in a wheelchair for the rest of her life."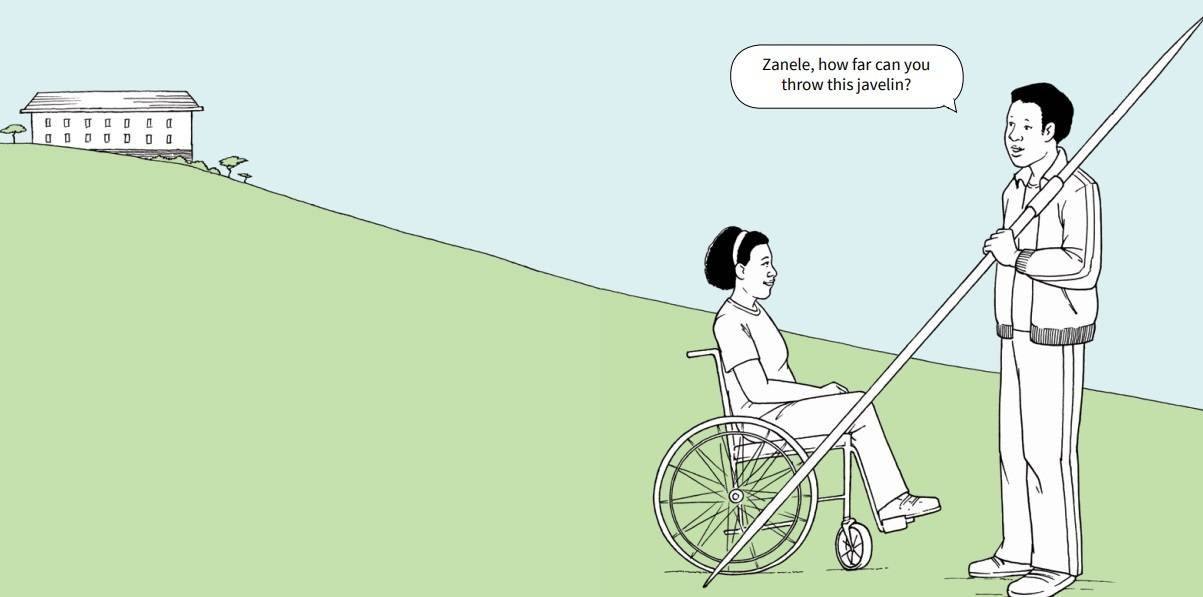 I went to a special school in Umtata, and my teachers encouraged me. It was a very busy school, with lots of activities like sport and sewing. On weekends we had tasks to do. We had to clean our rooms, polish our shoes and clean our wheelchairs.
<End of Page 4>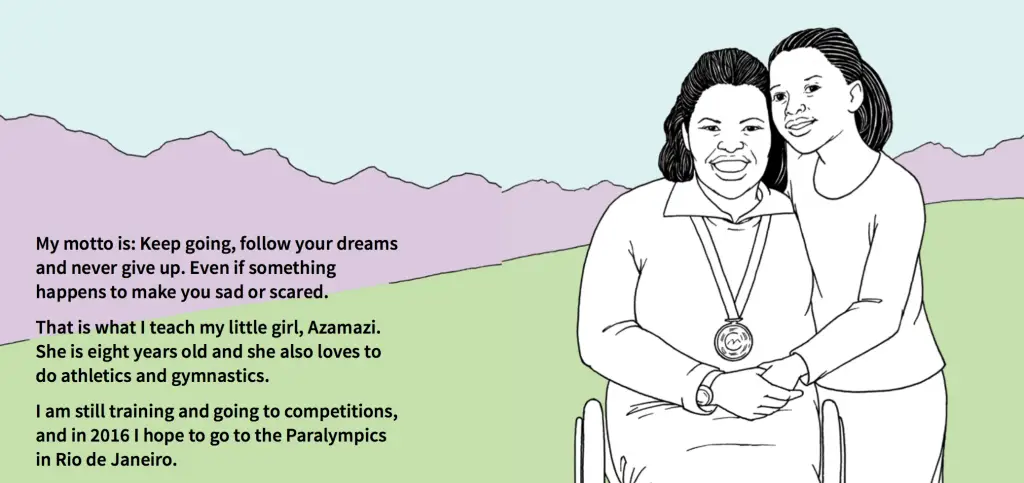 About Bookdash
Bookdash is a South Africa non-profit organisation, consisting of volunteers who are passionate about getting books to kids than need them. Bookdash believes every child should have access to as many books as possible, as do we here at Free Kids Books! Read more about them in this article:  https://freekidsbooks.org/bookdash-cc-childrens-stories/
Why Book Dash?
Books purchased from publishers cost too much. In order to distribute more books for South African children, Book Dash participants work as publishers in a single day, having a book with no publishers mean the book will be a lot cheaper the only cost will be printing the books. With these, anyone can run sponsored prints and the finished books can be handed to children.
Every child should have a hundred books when they reach the age of five. that means handing down 600 million free books to South African children who probably could not afford to buy them, More children grow up not learning how to read and write well, and every day we lose more of these children. Let us not neglect these children and help them overcome poverty by first teaching them how to read and to enjoy the worlds that a book can open up.
See more books about Diversity and Differences
---
Sponsored Links:
Note – if you sign up through these links, it doesn't cost you any extra, but FKB receives a small donation, which helps us with our project to buy more FREE Hardcopies   for kids who need them

All our posts are checked by Grammarly, the FREE online grammar checker (We still receive a donation even if you only sign up for the free account :-):