3…2…1… Blast Off! is a space  early non-fiction theme book.
This count-down style book counting down from 12 to 1, introduces readers to fascinating celestial objects, to space concepts, and to the people involved in the various facets of astronomy. It may just inspire them to take a step towards a career in astronomy. Come, let us go space travelling!
This book is rated Level 3 by Pratham, suitable for stronger readers, some difficult words, but a relatively short length of text. The language and concepts in this book are aimed at early grades. This book is also fun to read to younger readers interested in sapce.
Approximate reading time 10 minutes.
3…2…1… Blast Off! is brought to us in creative commons (CC-BY-SA) by Pratham's Storyweaver platform, and was supported by CISCO.
Sample Text from 3…2…1… Blast Off!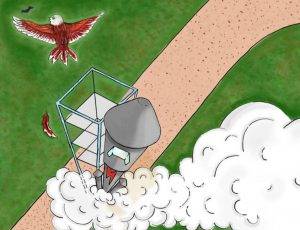 12 dreamy constellations floating in space
A CONSTELLATION is a group of stars that forms a pattern in the sky. It sometimes looks like a mythological character or an animal
if you have a good imagination.
Cygnus, Lacerta, Triangulum, Cepheus, the Little Dipper, Lynx, Draco, Hercules, the Big Dipper, Scutum and Orion are names of
the constellations on page 2.
11 shiny satellites up in the sky
<End of page 3 of 24>
Click on the links below the post to read or download the full book.
See more books about space in our Space Category.
See more books about science in our Science Category.
See more non-fiction books in our Non-fiction Category.
---
All our posts are checked by Grammarly, the free online grammar checker (British English used):
This site is hosted by Bluehost:

Leave a comment (it won't be public) if you want help getting your own website cost-effectively.