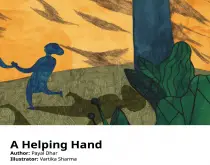 A Helping Hand – A series of letters tell a heart warming and inspiring tale of friendship and dealing with disabilities. The writer is asked to show the new girl around. To begin with it's awkward, and the other kids don't understand, but differences are what make us stronger! Another great Creative Commons book from Pratham and Storyweaver, this book is Level 4 for older children and fluent readers.
By: Payal Dhar, Vartika Sharma
Sample Text From A Helping Hand:
Dear… well, you know who you are. And it's not like you're ever going to see this letter. Miss told me that I had to be your mentor and show you around because you are a new student. I didn't know what a 'mentor' is, so I looked it up in the dictionary. Anyway, she didn't tell me anything about that.
Ali and Gaurav and Sumi and Rani, they kept asking me about it when we were going home from school. I told them that I didn't know what they were talking about, but that's not true. How can I not know?
See, you made me lie to my friends.
Yours sincerely,
Me
<End of Sample Text From A Helping Hand>
About the Author:
Payal Dhar is an Author from India, He is also a freelance writer and editor, writing about computers, technology, books and fiction.
About the Illustrator:
Vartika Sharma is an Illustrator, graphic Designer and photographer based in New Delhi, India.
About Pratham Books
Pratham Books goes digital, FKB  is helping with their aim to get a book in every child's hand!
Storyweaver, their digital platform is provided to weave a whole new chapter in the realm of multilingual children's stories. Knitting together children, authors, illustrators and publishers. Folding in teachers, and translators. Creating a rich fabric of openly licensed multilingual stories for the children of India and the world. Their unique online platform, StoryWeaver, is a playground where children, parents, teachers and librarians can get creative, using the resources to make your own unique books online.
Check Out More Books from Pratham and Storyweaver:
Naughty or Not is a fun read for young children, and entertaining for toddlers. Are they being good today, or naughty? Learn interactively through interesting questions and answers.
Story of Stories is a picture book about a writer bear following his dream to write. What would happen if you were a journalist but there was nothing to write about? Should you give up writing? Or should you find another way to follow your dream?
Does it seem journalists have to write breaking stories about bad stuff all the time? What if they wrote about funny, happy, moving, or even sad, and scary stories? If a story had more depth wouldn't people enjoy it more?
Dive! explores the underwater world, stepping you through the experience of going scuba diving on a coral reef. Take a dive with us into the spectacular world of coral reefs, and catch a glimpse of some strange and beautiful sea creatures!