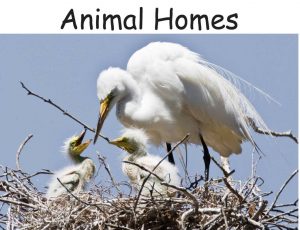 Animal Homes is an early reader for grade 1 children. It is leveled at a guided reading level E, with 103 words and 8 pages inside the book (total 12 pages)
This book is a creative commons book from Mustard Seed books, available in English and Spanish.
A perfect book for inspiring some nature projects for example making a home for a pet or soft toy (real or make believe) and learning about looking after animals and taking responsibility.
Sample Text from Book:
People live in houses and apartments. Where do animals live?
Foxes live in holes in the ground that help them hide and keep warm.
<End of Page 2>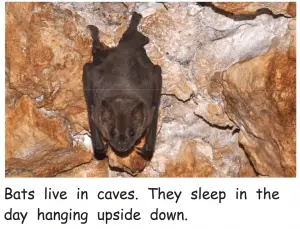 Guided Reading: E, Grade Level: 1.5, Reading Recovery: 7
Word Count: 103, Pages 8,  Mustard Seed Set 2 – Mid 1st Grade
More books by Mustard Seed Books can be found on Free Kids Books here:
https://freekidsbooks.org/author/mustard-seed/
This book is also available in Spanish here: https://freekidsbooks.org/los-hogares-de-los-animales-animal-homes-spanish-version/
About Mustard Seed:
 Mustard Seed Neighborhood Development Corporation was founded in 1995, it still continues its community development work by supporting public education, recreation programs and community gardening. The Organization is run by Executive Director Rick Chan Frey.
"Check more Books about Animals by: Mustard Seed"
A very cute non-fiction book for early grades (aimed at Grade 1) about baby animals. Another great creative commons book from Mustard Seed Books.
A non-fiction book all about tigers. This book is levelled to guided reading Level H, for grades 1 to 2 with 245 words. Another great creative commons book from Mustard Seed Books.
A very cute account of a baby lion's day, aimed at young children or those learning to read. Another great Creative Commons book from Mustard Seed.
I See Colours – A short book with the phrase I see…. and animals of different colors. A nice short book for very small children and early readers.
See more books by Mustard Seed below
---
Sponsored Links:
Note – if you sign up through these links, it doesn't cost you any extra, but FKB receives a small donation, which helps us with our project to buy more FREE Hardcopies   for kids who need them

All our posts are checked by Grammarly, the FREE online grammar checker (We still receive a donation even if you only sign up for the free account :-):