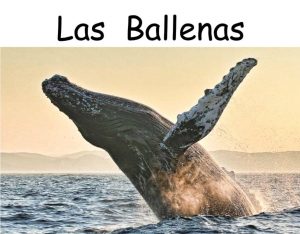 Los Ballenas is a Spanish version of the popular ebook Whales from Mustardseed books.
See the English version of Los Ballenas – Whales here: https://freekidsbooks.org/whales/
Text and Images from Los Ballenas – Whales Spanish Version
Las ballenas son los animales más grandes del
planeta, ¡aún más grandes que los elefantes!
La ballena azul es el animal más grande del
mundo. Mide más o menos 94 pies de largo. ¡Eso es tan largo como una cancha de basquetból!
<end of sample>
See more books in Spanish below