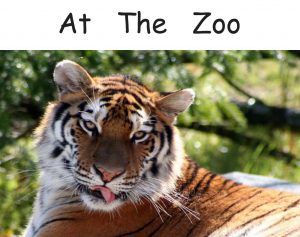 With sight words, and short repeated phrases, At The Zoo is a perfect book for early readers. At the Zoo uses the sight word phrase "I like to look at the…" (see the full text below).
At the zoo is another great creative commons leveled book from Mustard Seed Books (see more about Mustard Seed Books below).
With a word Count: 56 and 8 content pages, This book is leveled for the following common reading standards: Grade Level: 1.1 Guided Reading: C, Reading Recovery: 2.
What do we see at the zoo?
Text from At The Zoo
I like to look at the zebras.
I like to look at the bear.
I like to look at the tiger.
I like to look at the monkeys.
I like to look at the crocodile.
I like to look at the hippo.
I like to look at the lion.
I like to look at the elephant.
<End of Text>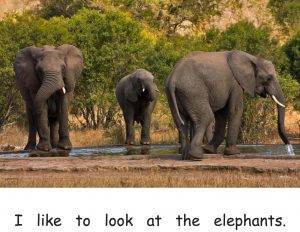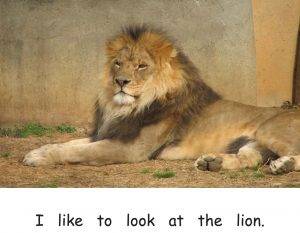 About Mustard Seed
Mustard Seed Neighborhood Development Corporation is a non-profit in the education sector, founded in 1995. It still continues its community development work by supporting public education, recreation programs, and community gardening. The Organization is run by Executive Director Rick Chan Frey.
____________________________________________________________________________
Check Out More Books For Early Readers

Naughty Or Not – Fun reading for toddlers
 Naughty or Not is a fun read for young children, and entertaining for toddlers. Are they being good today, or naughty? Learn interactively through interesting questions and answers.This is another great creative commons book from Pratham and Storyweaver.
Walking Together tells a simple rhyming story about walking together to the clinic. A beautiful story for young children who may be afraid of going to the Doctor.
Another great creative commons book by Bookdash!
All Seasons is an early reader, rhyming book about seasons aimed at kindergarten children. The book is in a reader-friendly open dyslexic text.
And Here's Some More Recent Releases for Young Children:
A Baby in the Belly – a fun way to help teach kids about the new baby
A Baby in the Belly is the perfect picture book for any toddler or preschooler about to become a big brother or sister. There's a new baby hamster on the way! Hamster twins Pamster and Samster just can't believe the good news – Mommy has a baby in the belly! Families will love this age-appropriate picture book for toddlers and preschoolers living with a pregnant mom.

The Tale of Peter Rabbit – A Classic Children's Story
The story of Peter Rabbit by Beatrix Potter is a tale which has entertained children for generations. Herewith the classic children's story is provided in a downloadable and read online format designed in a manner similar to the feel of the original Beatrix Potter books. Naughty Peter disobeys his mother and goes into Mr McGreggor's garden looking for carrots. He ends up in all sorts of trouble not the least loosing his clothes and shoes, what will end up happening to him?
See more books by Mustard Seed below
---
Sponsored Links:
Note – if you sign up through these links, it doesn't cost you any extra, but FKB receives a small donation, which helps us with our project to buy more FREE Hardcopies   for kids who need them

All our posts are checked by Grammarly, the FREE online grammar checker (We still receive a donation even if you only sign up for the free account :-):