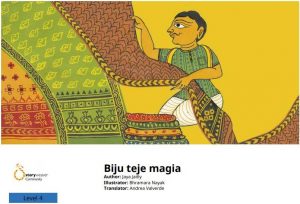 Biju teje magia – Biju Spins Some Magic Spanish – Biju is from a family of handloom weavers he was born in the village of Jilminda. His father does not believe that his son Biju needs to attend school as it will only give funny ideas to Biju about working in an office. Biju convinced himself that is Aba was right, setting someone he knew as an example who had a degree but does not have a decent job. His Aba is going to brng Biju to Delhi to sell their Sari's for a better price. Here Biju showcases his magical skill. A fun and culture rich story for children.
Author: Jaya Jaitly Illustrator: Bhramara Nayak
Text and Images from Biju teje magia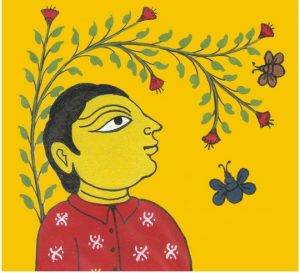 Era una tarde calurosa en la silenciosa y polvosa villa de Julminda, cerca de Sambalpur, en Odisha. Biju, de nueve años, estaba sentado debajo de un árbol esperando a su padre. Iría con Bapa en un viaje largo. Una mosca zumbó cerca de su oreja. El brillo del sol junto con el "clac-clac" constante de los telares de las casas cercanas lo hicieron sentirse cansado.
Pensó que podría dormir un poco en compañía del perro café que había venido a compartir la sombra con él, pero el perro estaba jadeando tan fuerte en el calor que no dejó dormir a Biju.
Biju, como la mayoría de los niños en su pueblo, no iba a la escuela. Quería ir a la escuela pero sus padres habían dicho que no servía de nada que aprendiera cosas que no tuvieran nada que ver con su profesión de tejedor. Sólo tendría pensamientos inútiles en su cabeza sobre trabajar en una oficina.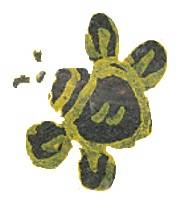 Así que Biju trató de convencerse a sí mismo que la escuela no era divertida porque los niños que sí iban se veían tristes y tenían que cargar mochilas pesadas llenas de libros. El hermano de un amigo obtuvo un 'diploma' después de ir a la escuela pero no le había ayudado a conseguir trabajo. Había ido arriba y abajo muchas escaleras en edificios altos de oficinas en Mumbai pero sólo le habían ofrecido trabajo en tiendas de té, kioskos de periódicos y de conserje. Ya había vuelto a casa, ayudando a su padre a tejer ikat saris, los cuales llevaba a Mumbai de vez en cuando a vender a un vendedor mayorista.
<end of sample>
Biju teje magia English version below:
Read the English version using the above link.
See more books in Spanish below