¡Hogar dulce hogar! – The Best House Of All Spanish – What does it take to build a house? what do you need and where is the right place to build a house? These are some of the questions that is going to be answered in this book about a girl who aspires to become an architect. The book has lessons about different houses from around the world and houses that are specific for an area that is muddy, in a city, in a middle of a forest, or in freezing ice and snow. Perfect for a young aspiring architect.
Author: Natasha Sharma, Illustrator: Kaveri Gopalakrishnan
Text and Images from ¡Hogar dulce hogar!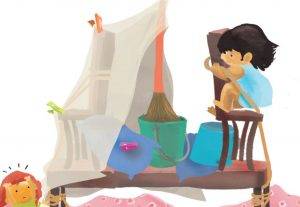 Soy arquitecta.
Los arquitectos diseñan y construyen edificios porque
Les gustan los edificios y las casas al igual que yo.
Por eso Ma me llama su "pequeña arquitecta".
Para construir una casa, necesita espacio en algún lugar.
Su casa podría estar en un bosque lleno de árboles,
Un lugar caliente del desierto,
Un lugar en lo alto de las montañas,
Un lugar donde hay blanco nieve alrededor ¡brrr!…
Un lugar lluvioso ¡plic!…¡ploc!,
En un pueblo verde fangoso O un lugar altísimo como los rascacielos ….
<end of sample>
Read the full book by selecting one of the buttons below the post.
¡Hogar dulce hogar! English version below:
Read the English version using the above links.
See more books in Spanish below