The Bubble Mystery explores Toot Toot the goat's mystery adventure when she tries to find out where bubbles come from, can you guess?
Young children will find the tale immensely amusing.
This picture book was created by Room to Read, and this version is from Storyweaver.
Download the epub version here, The Bubble Mystery epub.
Text From The Bubble Mystery – where bubbles come from?
Toot-Toot was very happy. She was going to the pond for the first time. Bath time!
At first, Toot-Toot was scared of the water.
But when she saw all the other goats splashing around, she jumped in!
Everyone laughed. Everyone splashed. Everyone played and played!
Toot-Toot soon found bubbles all around her.
They were going blop blop blop! She was a little afraid.
But she soon got over it.
Toot-Toot began to jump, dance and twirl through the bubbles.
After that fun day, Toot-Toot began to wonder, "How are bubbles made?"
She asked her Baba. Baba said he didn't know.
Toot-Toot asked her Ma.
Ma said she didn't know, either.
So Toot-Toot decided to solve the bubble mystery all by herself.
She flapped her tail in the water…
She blew into the water with all her might…
But she didn't make a bubble!
One day, Toot-Toot's tummy was hurting. She wondered what to do.
She decided to bathe in the pond's cool water
There was a deep rumbling in her tummy.
Suddenly, gas escaped from Toot-Toot! Pssshhhhhtttt!
As the gas shot through the water, bubbles popped up to the water's surface. Blop blop blop!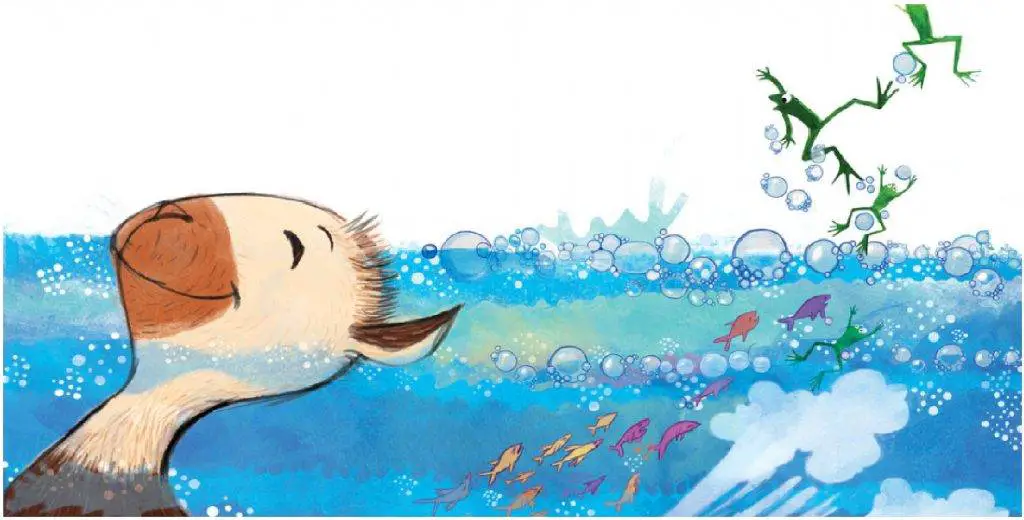 Finally, Toot-Toot had solved the bubble mystery!
Now, whenever it's bath day, Toot-Toot makes the most magnificent bubbles of all.
After her first bath day, Toot-Toot's sister asked her how bubbles were made.
And what did Toot-Toot say? Why, she told her sister she didn't know!
<End of The Bubble Mystery>
See more books from Pratham-Storyweaver in our Pratham Storyweaver category.
---
Sponsored Links:
Note – if you sign up through these links, it doesn't cost you any extra, but FKB receives a small donation, which helps us move towards our aim of
FREE Hardcopies!  
All our posts are checked by Grammarly, the FREE online grammar checker (We still receive a donation even if you only sign up for the free account :-):


This site is hosted by Bluehost:

Leave a comment (it won't be public) if you want help getting your own website cost-effectively.