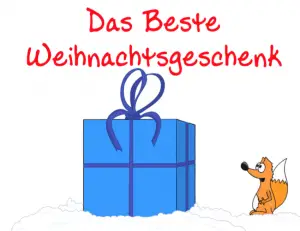 Das Beste Weihnachtsgechenk – Bubu the fox's Christmas adventures translated into German.
Text and Images from Das Beste Weihnachtsgechenk
Der Winter kam und der Schnee bedeckte das Tal, von Bubu, dem kleinen Fuchs. Alle Tiere verstecketen sich in ihren Häusern. Bubu mochte den Winter nicht, aber auf einen bestimmten Tag wartete er voller Ungeduld.
Morgen war Heiligabend und Bubu war so aufgeregt, dass er nicht einschlafen konnte.
Welches Geschenk würde ihm der Weihnachtsmann bringen? Einen neuen Ball?
Oder Schlittschuhe? Oder vielleicht…plötzlich leuchtete etwas am Himmel auf.
<end of sample>
Das Beste Weihnachtsgechenk English Version Below
The Best Christmas Gift brings us another wonderful adventure from Bubu, the small fox with a big heart. This time, it's Christmas, and Bubu helps Santa with an important task. A very sweet and beautifully illustrated children's story, with a nice moral to help children learn about values and rules. Many other Languages available at the author's website.
See more Books in Geran below