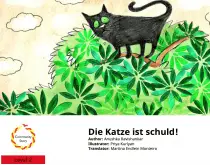 Die Katze ist Schuld – A German version of the popular book 'It's the Cat's Fault' a variation on 'the dog ate my homework' theme. The English version is available on our home page.
Written by Anushka Ravishankar, Illustrated by Priya Kuriyan
Die Katze ist Schuld English Version Below
It's All The Cat's Fault a classic variation of "the dog ate my homework" for cat lovers, perfect for getting children to read who hate homework. Another great creative commons book from Pratham / Storyweaver. The dog ate his homework but why it is the cats fault?
See more books in German below