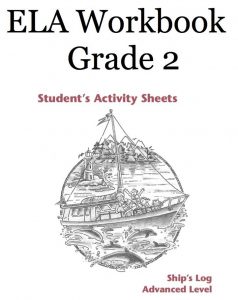 This is the teachers guide or parent guide to the Grade 2 ELA activity book. Each lesson is aimed at a tutor, parent, or teacher guiding a child through their lessons.
Download the textbook or read the flipbook online on the buttons below this post.
Each "Job Card" or lesson plan matches an activity in the Grade 2 ELA Activity Book (Student's Activity Sheets) also available for this resource here:
Grade 2 ELA Activity Book – OSBC Advanced 
This parent guide and the associated activity book is the third in a series of three OER English textbooks for early elementary from OSBC. The combined six English books make perfect resources for home school parents.
Contents of Grade 2 ELA Activity Book Teachers Guide
Introduction
Page Protocol
Learn More about Sentences! 5
Subject and Predicate 8
Joining Short Sentences Together! 11
Correcting Run-on Sentences 14
Let's Look at Commas 16
Using Quotation Marks 18
Nouns – The Name Words 21
Common and Proper Nouns 23
Possessive Nouns 25
Compound Words 27
Contractions 29
Learning about Action Verbs 32
Learning about Other Kinds of Verbs 37
Choosing 'A' or 'An'? 40
Let's Learn to Use Pronouns 43
Using Possessive Pronouns 45
Using Describing Words 46
Let's Use Similes 51
Learning about Synonyms 52
Learning about Antonyms 53
Learning about Homonyms 54
Understanding Abbreviations 57
Writing a Friendly Letter 60
Writing a Postcard 64
Making New Words with Prefixes 66
Making New Words with Suffixes 68
Building a Paragraph 70
Using Alphabetical Order and a Dictionary 72
Learning about Syllables 74
Spelling 77
Other Books in Early Grades English Series from OSBC
See All the Books in this series, suitable for Grade 1 to Grade 2 level, and packed with ESL printables here:
OSBC Grade 1 English Worksheets
OSBC Grade 1 English Teacher Guide
OSBC Grade 1-2 English Worksheets
OSBC Grade 1-2 English Teacher Guide
OSBC Grade 2 English Worksheets
OSBC Grade 2 English Teacher Guide   (this book)
See more English textbooks and resources below
---
Sponsored Links:
Note – if you sign up through these links, it doesn't cost you any extra, but FKB receives a small donation, which helps us with our project to buy more FREE Hardcopies   for kids who need them

All our posts are checked by Grammarly, the FREE online grammar checker (We still receive a donation even if you only sign up for the free account :-):