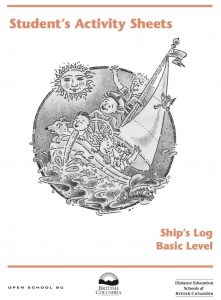 This is a Grade 1 ELA Activity book for learning grammar. The activities include ordering words in a sentence, forming questions, suffixes "ing" and "ed", plurals, contractions, compound words, a and an, ownership, and alphabet order.
This is a great activity book for school or homeschool use, or for extra homework to improve skills at a Grade 1 level, suitable for children age 5-7.
See this ELA textbook download or read the flipbook online of the full Grade 1 ELA Activity Book on the green buttons below this post.
This ELA workbook is also available in a parent guide (teaching guide), here: Grade 1 ELA Activity Book Basic Teachers Guide
This activity book is brought to us in creative commons (CC-BY-NC) by Open Schools BC, a distance learning specialist who supports open education resources. The book can be used for non-commercial purposes.
Find more books like this one in our School Textbooks category, for Grade 1 resources, see the Grade 1 Textbooks page.
Grade 1 ELA Activity Book Contents
Activity 1 Sentence Sutouts Page 1-2
Activity 1a Reorder the Sentence Page 3
Make Questions Cutout Page 4
Activity 2 Change to Questions Page 5
Activity 2a Correct Questions Page 6
Activity 3 Adding "ing" Page 7
Activity 4 Adding "ed" Page 8
Activity 4a Root Word Cutout Page 9
Plurals Jigsaw Cutout Page 10-11
Activity 5 Plurals Match Page 12
Activity 5a Plurals Page 13
Plurals Cutout Page 14
Three Foxes Plural Game Page 15
Activity 6 Plurals Staircase Page 16
Contractions Cartoon Page 17
Contractions Activity Page 18
Activity 7 Contractions Activity Page 19
Compound Words Page 20
Compound Words Jigsaw Page 21-22
Activity 8a Compound Words Activity Page 23
A or An Activity Hop the Pond Page 25
Activity 9 A or An Activity Page 26
Activity 9a A or An Activity Page 27
Activity 10 Ownership Activity Page 28
Activity 10a Ownership Activity Page 29
Nursery Rhymes – circle the noun / verb / adjective Page 31
Activity 18 Alphabet Order Page 32
Activity 18 Alphabet Order Page 33
Other Books in Early Grades English Series from OSBC
See All the Books in this series, suitable for Grade 1 to Grade 2 level, and packed with ESL printables here:
OSBC Grade 1 English Worksheets  (this book)
OSBC Grade 1 English Teacher Guide
OSBC Grade 1-2 English Worksheets
OSBC Grade 1-2 English Teacher Guide
OSBC Grade 2 English Worksheets
OSBC Grade 2 English Teacher Guide
See more English textbooks and resources below
---
Sponsored Links:
Note – if you sign up through these links, it doesn't cost you any extra, but FKB receives a small donation, which helps us with our project to buy more FREE Hardcopies   for kids who need them

All our posts are checked by Grammarly, the FREE online grammar checker (We still receive a donation even if you only sign up for the free account :-):