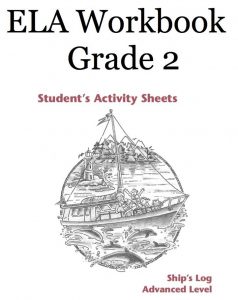 This ELA activity book is suitable for Grade 2 English First Language students and can be used for developing grammar in English Second Language students who have already developed an understanding of the language. The book contains 29 different grammar activities, each one of the 29 topics contains a Guided Practice ("GP") exercise and an Activity Sheet ("AS") exercise.
Download or read the flipbook by selecting the buttons below the post.
This ELA workbook is also available in a parent guide (teaching guide), here: Grade 2 ELA Activity Book Advanced Teachers Guide
This book was brought to us in creative commons, CC-BY-NC, by Open Schools BC.
See more books by Open Schools BC here on FKB, in the Open Schools BC category. 
If you're looking for more Grade 2 resources, check out our Grade 2 Workbooks post, where we've listed all our Grade 2 resources.
If you're looking for more English resources, see our English Language category.
If you're looking for more free school textbooks and school resources for K-12, checkout our School Textbooks Page
Contents of Grade 2 ELA Activity Book
GP#1 Sentence Punctuation
AS #1 A Complete Sentences
AS #1 B Punctuation
AS #1 C Create a comic
GP#2 A and B Subjects and Predicates
GP #2 C Complete the Sentence
AS #2 A and B Subjects and Predicates
AS #2 C Complete the Sentence
GP #3 Connecting Sentences (conjunctions)
AS #3 Connecting Sentences (conjunctions)
GP #4 Separating Sentenes
AS#4 Separating Sentenes
GP#5 Using Commas
AS#5 Using Commas
GP#6 A and B Using Quotation Marks
GP#6 C Using Punctuation
AS #6 Using Quotation Marks
GP #7 A and B Nouns
GP #7 C Plurals
AS #7 Plurals
GP #8 Proper Nouns
AS #8 Proper Nouns
GP #9 Possessive Nouns
AS #9 Possessive Nouns
GP #10 Compound Words
AS #10 Compound Words
GP #11 Contraction Practice
AS #11 Contraction Practice
GP #12 A, B, C Action Verbs
GP #12 D, E, F Action Verbs Past and Present
GP #12 G Action Verbs Plurals
GP #12 Action Verbs
GP #13 Other Kinds of Verbs
AS #13 Other Kinds of Verbs
GP #14 A or An
AS #14 A or An
GP #15 Pronouns
AS #15 Pronouns
GP #16 Possessivs Pronouns
AS #16 Possessivs Pronouns
GP #17 Adjectives
AS #17 A and B Adjectives
AS #17 C Verbs and Adverbs
GP #18 Similes
AS #18 Similes
GP #19 Synonyms
AS #19 Synonyms
GP #20 Antonyms (opposites)
AS #20 Antonyms (opposites)
GP #21 Homonyms (words that sound the same)
AS #21 Homonyms (words that sound the same)
GP #22 Understanding Abbreviations
AS #22 Understanding Abbreviations
AS #23 Writing a Letter
AS #24 Write a Postcar
GP #25 Prefixes
AS #25 Prefixes
GP #26 Suffixes
AS #26 Suffixes
GP #27 Building Paragraphs
AS #27 Building Paragraphs
GP #28 Alphabetic Order
AS #28 Alphbetic Order
GP #29 Syllables
AS #29 Syllables
<End of contents from ELA Activity book for Grade 2>
Other Books in Early Grades English Series from OSBC
See All the Books in this series, suitable for Grade 1 to Grade 2 level, and packed with ESL printables here:
OSBC Grade 1 English Worksheets
OSBC Grade 1 English Teacher Guide
OSBC Grade 1-2 English Worksheets
OSBC Grade 1-2 English Teacher Guide
OSBC Grade 2 English Worksheets  (this book)
OSBC Grade 2 English Teacher Guide
See more English textbooks and resources below
---
Sponsored Links:
Note – if you sign up through these links, it doesn't cost you any extra, but FKB receives a small donation, which helps us with our project to buy more FREE Hardcopies   for kids who need them

All our posts are checked by Grammarly, the FREE online grammar checker (We still receive a donation even if you only sign up for the free account :-):