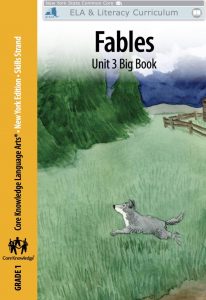 Fables is a collection of folk tales and fables written for a grade 1 level. The collection of stories also has an associated workbook and teacher guide available.
This grade 1 reader has many of the sounds highlighted throughout the text to help children learn new phonemes, and there is a list of decoded sounds and tricky words at the end of the book.
Fables also has a matching workbook, with English language activities suitable for Grade 1 first language students, and can be used for beginner ESL students, available here: https://freekidsbooks.org/fables-grade-1-ela-workbook/
See more of our Grade 1 resources in our Grade 1 Workbooks and Textbooks section. 
See all the books in this unit, including the teacher guide, at the Engage NY site, https://www.engageny.org/resource/grade-1-ela-skills-unit-3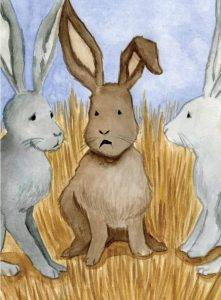 The following fables are included in this grade 1 book:
King Log and King Crane
The Two Dogs
The Hares and the Frogs
The Two Mules
The Dog and the Mule
The Bag of Coins
The Dog and the Ox
The Fox and the Grapes
The Fox and the Hen
The Fox and the Crane
The Tree and the Reeds
The Moon
See more of our books about Fables below
See more of our books English Language books below
---
Sponsored Links:
Note – if you sign up through these links, it doesn't cost you any extra, but FKB receives a small donation, which helps us with our project to buy more FREE Hardcopies   for kids who need them
All our posts are checked by Grammarly, the FREE online grammar checker (We still receive a donation even if you only sign up for the free account :-):