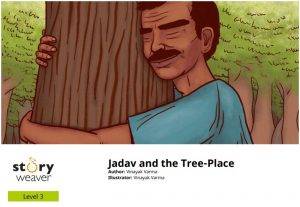 Jadav 'Mulai' Payeng Biography – Jadav and The Tree Place is a children's non-fiction book covering the story of Jadav 'Mulai' Payeng,  a man who created a forest, by planting one tree at a time.
This is an inspiring biography for children including lots of information about environmental friendly actions.
Another great non-fiction children's storybook from Pratham and Storyweaver.
Author: Vinayak Varma
Illustrator: Vinayak Varma
Text and Images from Jadav and the Tree Place – Jadav 'Mulai' Payeng Biography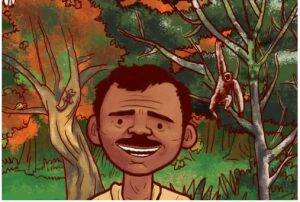 This is Jadav, a tree-planter.
He loves tree-places because they are full of life.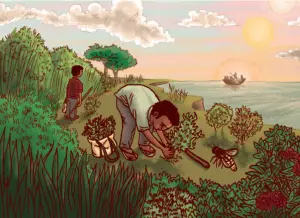 No-tree-places make him terribly sad, because they are full of dead things.
Years ago, Jadav was walking along the banks of the great Brahmaputra River when he arrived at a big, empty no- tree-place.
It was dry and hot. The sand was powdery and striped.
End of Page 2 – Jadav 'Mulai' Payeng Biography
About Jadav 'Mulai' Payeng
Jadav 'Mulai' Payeng is a conservationist and recipient of the Padmashree, one of the highest civilian honours awarded by the Indian government. Jadav lives in Majuli, Assam.
At the age of 16, distressed by the sight of dying snakes that had washed up on a sandbar banking the Brahmaputra, Jadav decided to plant some trees in the spot. He started small, with bamboos, and grew an entire forest, plant by painstaking plant. This was back in 1979.
Over the next three decades, Jadav and his tree- planting have managed to change the soil in the barren area. The 550-hectare sandbar is now a lush, dense forest and home to a variety of flora and fauna, including elephants, tigers, apes, deer and many species of local and migratory birds. Jadav continues to visit and nurture his forest every day, planting wherever he finds empty patches.
Other Biography storybooks you may like:
A Tiny Seed – Wangari Maathai understood that a lot can be achieved for the world by planting a tiny seed and letting it grow. Through her belief and her dreams for her country and people, she became the first black woman to win the Nobel Prize. This inspiring true story for children is brought you in Creative Commons by BookDash.
By: Nicola Rijsdijk & Maya Marshak
Zanele Situ's Story is the true story of the first African woman to win a gold medal at the paralympics, an amazing story of overcoming disability and achieving success despite extreme difficulty.
As a young girl Zanele Situ was told that she would never walk again. Loving sports she was very sad. But being in a wheelchair did not stop her. She worked and trained hard, and became a winning athlete on the world stage.
Another great creative commons book from Bookdash.
The cottonwool doctor, a children's non-fiction book, provides the story of Magaret Ann Bulkly, who became Dr James Barry.
This exciting and inspiring biography details the career of a woman who pretended to be a man so she could be a Doctor.
Another great free children's book from BookDash
Graca's Dream – The Story Of Graca Machel – The inspiring story of Graca Machel's dream for proper education for the children of Mozambique, and her unwavering dedication to instil a love of reading and learning in the new generations in her country and the African continent. Another great creative commons book from bookdash.
Save
See more Conservation books below
---
Sponsored Links:
Note – if you sign up through these links, it doesn't cost you any extra, but FKB receives a small donation, which helps us with our project to buy more FREE Hardcopies   for kids who need them

All our posts are checked by Grammarly, the FREE online grammar checker (We still receive a donation even if you only sign up for the free account :-):