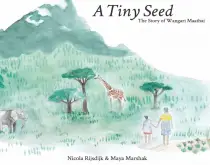 A Tiny Seed – Wangari Maathai understood that a lot can be achieved for the world by planting a tiny seed and letting it grow. Through her belief and her dreams for her country and people, she became the first black woman to win the Nobel Prize. This inspiring true story for children is brought you in Creative Commons by BookDash.
By: Nicola Rijsdijk & Maya Marshak
Sample Text From A Tiny Seed – The Story of Wangari Maathai:
In a village on the slopes of Mount Kenya in East Africa, a little girl worked in the fields with her mother. Her name was Wangari.

<End of Sample Text From A Tiny Seed – The Story of Wangari Maathai>
Or read along the video below
About the Author: 
Nicola Rijsdijk is a freelance Editor, She works on academic and children books. She specialise in fiction, she also work in memoir and other non-fiction.
Maya Marshak from Swaziland studied art in London, She then move to Cape Town to study Environmental Science. aside from her love for animals She was able to bring together her interest for art and the environment in her work.
About Book Dash
Bookdash is a non-profit, driven by the donation of time from talented volunteers. Their aim is to provide good quality books free into the creative commons arena so all children have access to literacy resources. Books are free to be used, shared, modified and published in any way, provided attribution is given and the same license is used.
More Books From Book Dash
Mrs Penguin's Perfect Palace – The Penguins are trying to build a perfect palace for Mrs Penguin, but something keeps going wrong. Eventually persistence and team work pays off. Another great creative commons book from Book Dash.
Little Ant loved to read! But ants don't read, they feed, or do they? Find out what happens to little ant and his love of reading, in this rhyming and wonderfully illustrated creative commons picture book by BookDash.
SpringLoaded What would happen if you invented a helicopter hat, or what about some spring loaded boots? This is a picture book WITHOUT WORDS, a great adventure in creativity for children to make up their own story to go with the images, and perfect for reluctant readers, illustrating that books are about telling a story, and passing on a message, there is much more to it than just words.
See more books about Conservation below
Read More About Bookdash on our blog here: https://freekidsbooks.org/bookdash-cc-childrens-stories/
---
Sponsored Links:
Note – if you sign up through these links, it doesn't cost you any extra, but FKB receives a small donation, which helps us move towards our aim of
FREE Hardcopies!  
All our posts are checked by Grammarly, the FREE online grammar checker (We still receive a donation even if you only sign up for the free account :-):