Let's Go Seed Collecting Spanish – Tooka and Poi love collecting things among the things they love to collect are seeds. Together with their friend Dog Inji they set off on a fictional adventure and met a talking tree. During their adventure they begin to learn different types of seeds and what kind of tree they will grow out to be. A fun story for kids that can serve as an early biology book for students and young readers.
Author: Neha Sumitran, Illustrator: Archana Sreenivasan
Text and Images from Let's Go Seed Collecting Spanish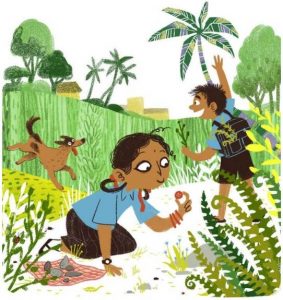 A Tooka y Poi les encanta coleccionar cosas. Piedras
lisas del río, hojas de helechos, botones rojos y
brillantes que se han caído de un uniforme escolar–
Toka y Poi lo recogen todo. Cada día, se reúnen
después de la escuela, cerca del árbol torcido de coco
cerca del río, y esperan a su mejor amigo.
A las 5 en punto, Inji llega, soplando como un autobús
escolar viejo. Inji es una perra amigable con ojos del
color del chocolate y una cola que nunca deja de menearse.
Juntos, Tooka, Poi e Inji caminan, con las cabezas abajo, escaneando el camino, los mechones de pasto y las piedras cubiertas de musgo para recolectar cosas interesantes. ¡Su cosa favorita de coleccionar son semillas!
Tooka y Poi coleccionan semillas rojas brillantes que parecen catarinas, erizos puntiagudos que se pegan a su ropa y las vainas gigantes en forma de frijol del árbol color cobre.
<end of sample>
Read the full book by selecting one of the buttons below the post.
Let's Go Seed Collecting Spanish
English version below:
Biology for early grades
Read the English version using the above link.
See more books in Spanish below