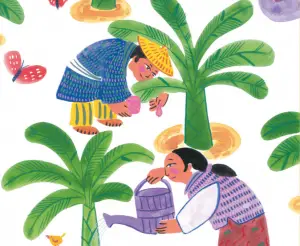 In The Magic Powder, a delightful folktale from Myanmar with a very important lesson, a young man studying alchemy finds out how to turn earth into gold by following the advice of his wise father in law.
Another great free story from Pratham and Storyweaver.
Author: Greystroke
Illustrator: P.G. Dinesh
Text and Images from The Magic Powder, A folktale from Myanmar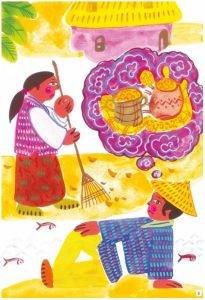 Once upon a time, in a little village on the banks of the Irrawaddy river, there lived a young woman called Thuza. She was very happily married to handsome young Theingi. But there was one problem that nagged Thuza – her husband believed he was an alchemist and would spend all his time dreaming about ways to turn dirt into gold.
All day, and for days on end, Theingi spent his time in experiments, searching for a breakthrough. Soon, all their money was over, and young Thuza had to struggle to buy food for the two of them. She became very worried. "You should find a job soon," she pleaded with her husband. "We cannot continue like this!"
But Theingi wouldn't listen. "I'm on the verge of a breakthrough! Why do I have to work when we will be rich beyond our wildest dreams? We will soon be able to turn all the dirt we find into gold!"
Disheartened, Thuza approached her father, wise old Thet, for a solution. Thet was surprised when he heard that his son-in-law was an alchemist. He thought for a while and asked to see Theingi. Thuza returned home happily that day, for she knew her wise father would have a solution.
<End of text>
About Pratham Books
Pratham Books goes digital, FKB  is helping with their aim to get a book in every child's hand!
Storyweaver, their digital platform is provided to weave a whole new chapter in the realm of multilingual children's stories. Knitting together children, authors, illustrators and publishers. Folding in teachers, and translators. Creating a rich fabric of openly licensed multilingual stories for the children of India and the world. Their unique online platform, StoryWeaver, is a playground where children, parents, teachers and librarians can get creative, using the resources to make your own unique books online.
About Creative Commons
Content under Creative Commons licenses can be downloaded, translated and can even be used to create new stories ‐ provided you give appropriate credit, and indicate if changes were made. To know more about this, and the full terms of use and attribution, please visit the following.
If you liked this book you may also like these:
How the Children Became Stars is a collection of 52 fables and folk tales from all over the world. The folk tales provide important morals and life lessons, and help foster an understanding of other cultures. Each folk tale has an activity at the end, which makes it perfect for classroom or home-school use, and with 52 tales to choose from, it can easily integrate it into a weekly curriculum.
The collection of international stories comes from a wide range of different cultures, including African, Aboriginal, Chinese, Japanese, European, Native American, Greek, Hindu, Jewish, and Buddhist tales, among the diverse range of fables and folk tales.
Written by Aaron Zerah
Table of Contents:
Chapter 1 Chapter 4Chapter 7
Chapter 2Chapter 5Chapter 8
Chapter 3Chapter 6Chapter 9
Brothers Grim Classic Children's Stories is a collection of famous classic children's stories from European folk history. The collection includes favourites such as Rapunzel, Snow White, Sleeping Beauty, The Elves and the Shoemaker, Hansel and Gretel, Rumpelstiltskin, Tom Thumb, Briar Rose, and many many more timeless classic children's stories.
Each of the classic stories is approximately 5 to 10 minutes, maximum 20 mintues reading time, from 2 to 7 pages of text, which makes them perfect for bedtime reading. Their familiarity and proof of the test of time assures they will be  a hit, and with well over 50 classic stories to choose you're also assured there will be many topics and tales your children will love.
See more Inspirational books below
See more books by Pratham's Storyweaver below
---
Sponsored Links:
Note – if you sign up through these links, it doesn't cost you any extra, but FKB receives a small donation, which helps us with our project to buy more FREE Hardcopies   for kids who need them

All our posts are checked by Grammarly, the FREE online grammar checker (We still receive a donation even if you only sign up for the free account :-):