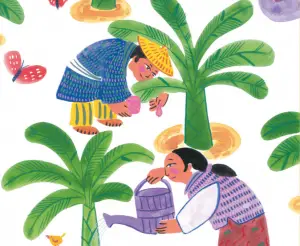 In The Magic Powder, a delightful folktale from Myanmar with a very important lesson, a young man studying alchemy finds out how to turn earth into gold by following the advice of his wise father in law.
Another great free story from Pratham and Storyweaver.
Sample Text from The Magic Powder, A folktale from Myanmar
Once upon a time, in a little village on the banks of the Irrawaddy river, there lived a young woman called Thuza. She was very happily married to handsome young Theingi. But there was one problem that nagged Thuza – her husband believed he was an alchemist and would spend all his time dreaming about ways to turn dirt into gold.
All day, and for days on end, Theingi spent his time in experiments, searching for a breakthrough. Soon, all their money was over, and young Thuza had to struggle to buy food for the two of them. She became very worried. "You should find a job soon," she pleaded with her husband. "We cannot continue like this!"
But Theingi wouldn't listen. "I'm on the verge of a breakthrough! Why do I have to work when we will be rich beyond our wildest dreams? We will soon be able to turn all the dirt we find into gold!"
Disheartened, Thuza approached her father, wise old Thet, for a solution. Thet was surprised when he heard that his son-in-law was an alchemist. He thought for a while and asked to see Theingi. Thuza returned home happily that day, for she knew her wise father would have a solution.
<End of Page 1>
If you liked this book you may also like these:
Save
Save
Save